I will take my lessons learned and apply them accordingly.
The Stars Were Not Aligned…
We arrived in NYC about 11am; first order of business was to get our race packets and sort out our transportation for the morning of the marathon. We hopped into a cab and within 45 minutes everything was in order! We had our bibs and were added to the list for Team for Kids to bus us over to Staten Island. It was so easy! And everyone we talked to was so helpful. Team for Kids is no doubt the way to go, they are awesome.
We had plenty of time to grab some lunch at one of our favorite restaurants before it was time to check in and meet the entourage of folks that were there with us. We had a nice casual lunch at the Nougatine, our favorite chicken dish, and as always the nicest people to chat with. We found ourselves sitting next to a fella that had run a half-dozen marathons including NYC and he was full of good advice.
Perry and I were back and forth over meeting our friends for dinner because of my super sensitive tummy, but decided to go for it to show support to our fellow runners. I'm so glad we went, it was a lot of fun to compare training styles, anxiety, excitement; truly taking in the comradery. There, we found ourselves at a table next to a 19 times (holy shit, right?) NYC marathon runner who had even more great advice for us first- timers. Everything was in place and we were feeling great about next 24 hours and 26.2 miles.
We headed back to the room to embrace a preparative night's sleep. And that's when it all went downhill, my stomach completely turned on me. It was in the top 10 worst night's sleep ever. I was experiencing symptoms of IBS, I'll spare you the details, just know it was awful. The wake-up call came at 4am, I was exhausted. I made my before run trusted smoothie to go and we were out the door by 5am. The cool air and brisk walk to the buses was exactly what I needed. My stomach was much better and I was feeling positive. Runners were coming from every direction in the city, all with the same destination. We were all kind; acknowledging each other and the journey we were on together. 26 coach buses lined the avenues, all aboard on our way to the start, feeling thankful for Team for Kids.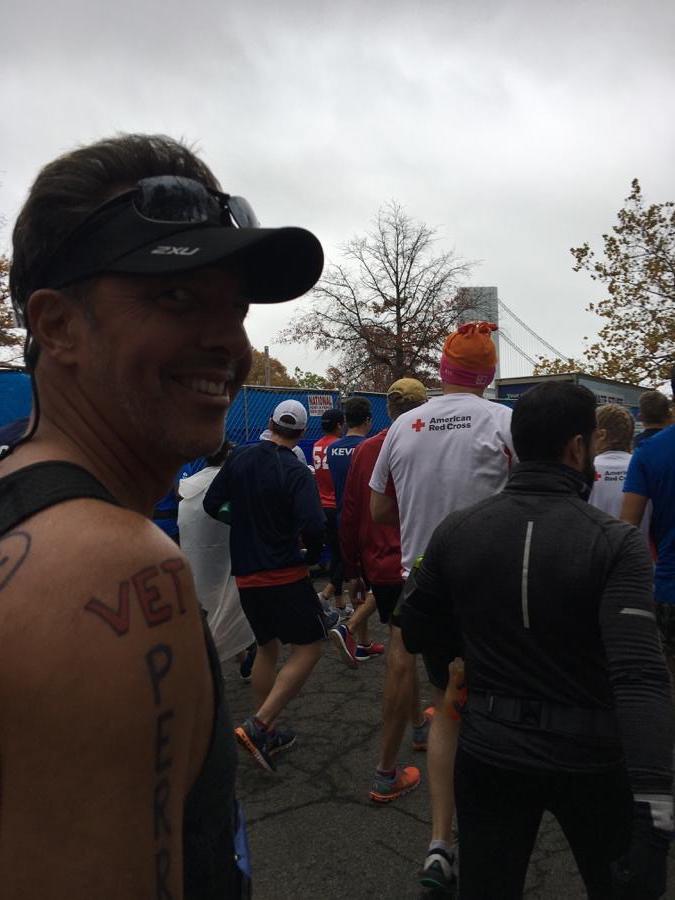 We arrived just over an hour later and were herded to our tent which housed coffee, ponchos, bagels etc. etc. etc. The organized chaos was quite impressive. We spent the next couple of hours fueling, hydrating and decorating our arms with our names on each other using a sharpie. It was so much fun talking to strangers on the same mission and listening to trainers and professional runners provide their favorite marathon tips. Here are some of my favs:
Start slow, keep the money in the bank for the back half
Breath
Sit down while you can
Stay in the center of the bridges
Run your own race
We talked to people who had run 19, 49, 77 marathons in their lives. I think that is so cool! One guy does a marathon every month of the year! I was beside myself and humbled by the people we engaged with.
Off to the start for our 10:40 gun time, we were hyped and so happy this moment was finally here. I was full of love and good vibes for my husband and taking in all that was around me. The gun went off and we started up the first hill of the course, the Verrazano-Narrows Bridge, 2 miles long and the steepest of them all! It was slightly raining, but it didn't matter, this was awesome; everyone was so happy to just be there.
Perry stuck with me for the first 4 miles, I knew he was going to pick up his pace before I was ready and I was ok with that because I had every intention on catching up to him. The first 4 miles was my favorite part of the race; it was exhilarating and surreal. We were running through the 5 major boroughs in our favorite city: Staten Island Brooklyn, Queens, The Bronx, Manhattan and through Central Park.
It was in mile 10 when I was searching for my first port-o-potty. My stomach was turning against me (I was not able to relieve myself before we started). I found one pretty quickly and instantly felt better and hopeful that it would be the only time I would have to do that. Not the case, after my third stop I had entirely given up on making my sub 4 hour goal and I was pissed about it! I was so uncomfortable, I just wanted to be alone in the fetal position in a corner somewhere. I found myself staring at the ground and would force myself to look up and at least try to enjoy the view. I stopped fueling at mile 16 and stopped drinking water at mile 22; the stars were not aligned for me.
I trained, I planned my run, but I didn't run my plan – huge mistake. I know I am capable of so much better! I have done so much better and I will do better. This is probably the biggest lesson I've learned from my first marathon. I've made a promise to myself to never deviate from my plan again, to never sabotage myself knowingly. I knew better than to go out to dinner and I still did it. Shame on me!
On a brighter note, the NYC fans were amazing and our pit crew was super supportive, navigating the city so they could cheer us on as much as possible. The degree to which people went out of there way for a bunch of runners they have never met before blew my mind. All of the volunteers at the water stops and the musicians pushing us along were wonderful.
I ran across the finish trying to hide my face because I knew the ugly cry was coming and it did. I only wish that I was crying because I was proud of my feat, but the disappointment I felt in myself squashed any pride I had. As I reflect, I'm trying to be nicer to myself, I know I deserve it and my 4:40 time is easier to swallow because I know the next marathon is going to be so much better! I'm seeking revenge and will find it either in Boston or Chicago.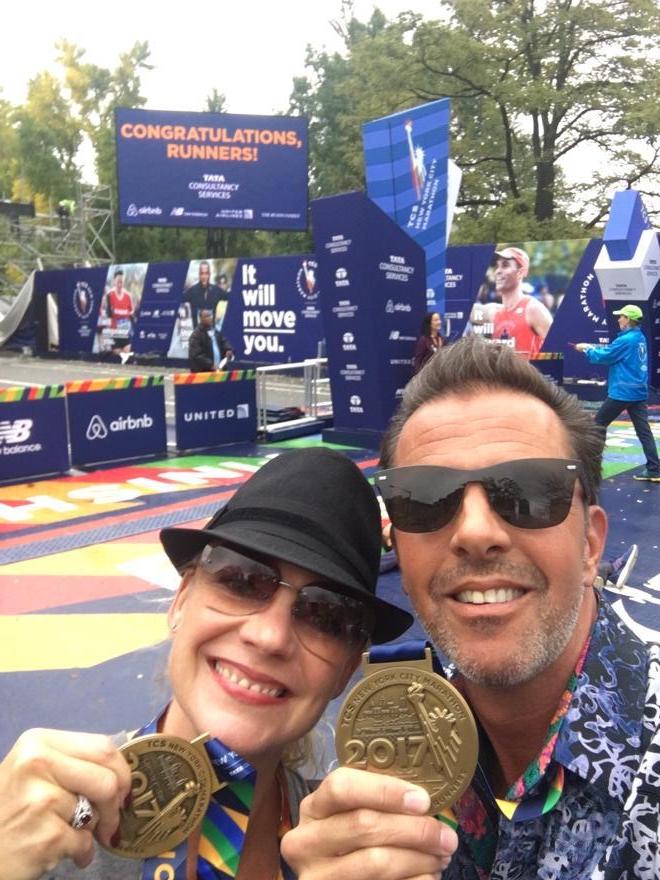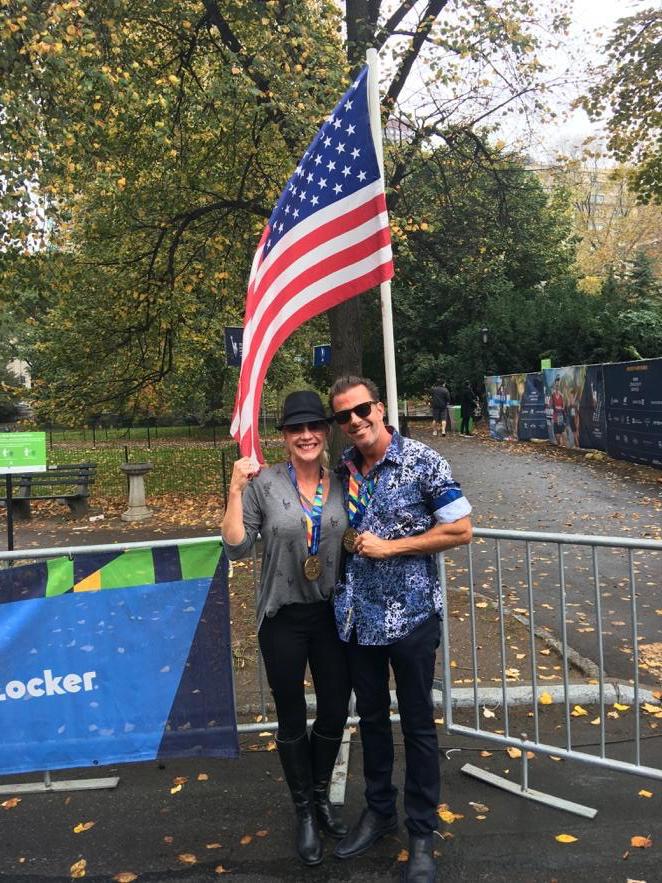 The plan is being developed. Perry and I will run the 6 Majors and my excitement is squashing my disappointment!
(Insert Check mark here) NYC Marathon
Chicago Marathon
London Marathon
Berlin Marathon
Tokyo Marathon
I will redeem myself! I will take my lessons learned and apply them accordingly. I will have tears of joy at the next finish line.
Keep up my journey to the next marathon.
Follow me on Instagram at www.instagram.com/stacysasnett
Connect with me on Facebook at www.facebook.com/stacysasnett
Read Stacy Says for family, fitness and lifestyle stories.
Check out Perry's marathon journey on www.perrysasnett.com
Related articles across the web