What I Thought I Knew.
It was about 2 years ago when Wifey asked a question that would change me, at least a part of me, forever. She asked, "Hey Babes, you want to run the NYC Marathon?" Now before I go into my answer let me just let the readers know that the timing of this seemingly innocent, but ridiculous question was critical…and for 4 reasons. Here they be:
I had just turned 50
I had just started getting "back" in shape
I "figured", given the date so far in advance that the desire would pass (WRONG!)
And this may be the most contributing factor…I was on the back end of a martini…or two
So I said……………………………………….."Sure, Babe!"
Now had you'd ask me any time before that point if I would consider running a marathon, and that's 26.2 miles for those not in the know, I would have said "Bahahahahahaha!!!" Or even better https://www.youtube.com/watch?v=29FvQgiRNXc
I spent a great portion of my Navy career running and staying in shape: no less than 5 miles a day 5 days a week for many years. That's just the base line for being physically ready within the world of Spec Ops/Navy EOD. So why in the hell would I pay to run that ridiculous distance…stupid that is. Well, stupid is as stupid does, apparently
It was early 2015 and the NYC Marathon was going to be the first week of November 2016 so I had "Plenty-O-Time" to prepare. Well, training time came around and I was about 15 pounds heavier than I should have been but I figured I'd sort through that soon enough. Enter first stress fracture. The stress fracture literally put me out of the race. So bummed…no, truly I was…seriously folks.
Remember point #2, me getting back in shape? Long story short, I was done and my Sweets WAS NOT. She kept moving right along in training. I picked up cycling and started swimming again just in case I could get back in the game. Never happened. We deferred to the next year, NYC Marathon 2017. Hats off to my Love for sticking with me. I may pay for that later…
The 2016 NYC Marathon came and went. We did go up to support some friends that ran it and although that was really cool, there was a bit of a somber feeling. Kind of like…"Damn! That could be us right now!" They were awesome and we were so happy for them! We're doing this next year! And now we're going into 2017…oh shit!
Just before the New Year I got past one stress fracture and into another, weak genes I reckon. To add insult to injury I then had a bout with gout. I didn't even know what the hell gout was, but I knew it hurt. Easily enough, I sorted through the ailment. So now I'm getting into stride, feeling good, seeing a little of my younger running prowess coming back and then BAMMMM!!! Plantar Fasciitis!!! You've gotta be shitting Pyle! Oh my god. I didn't know what that was either until I officially had it and it hurt! Damn, shit, dog balls…I'm knackered!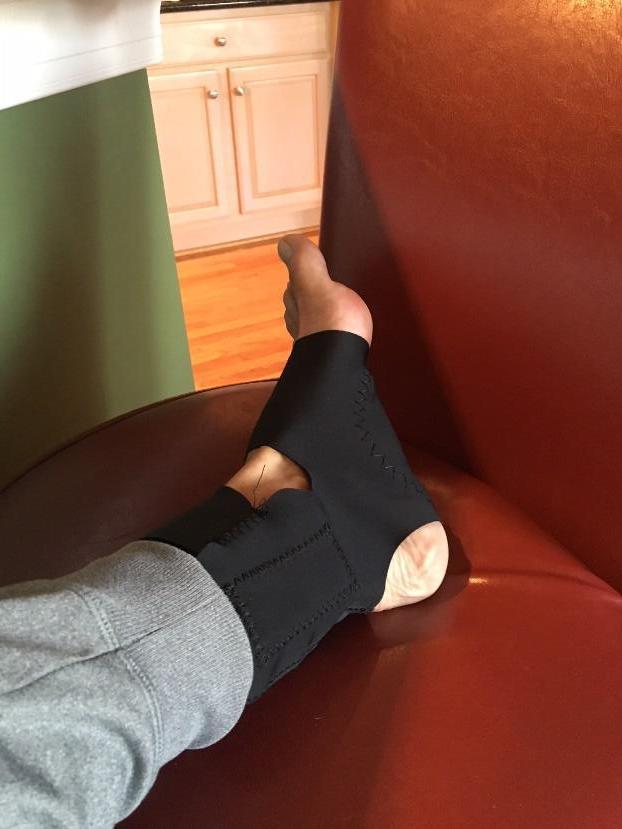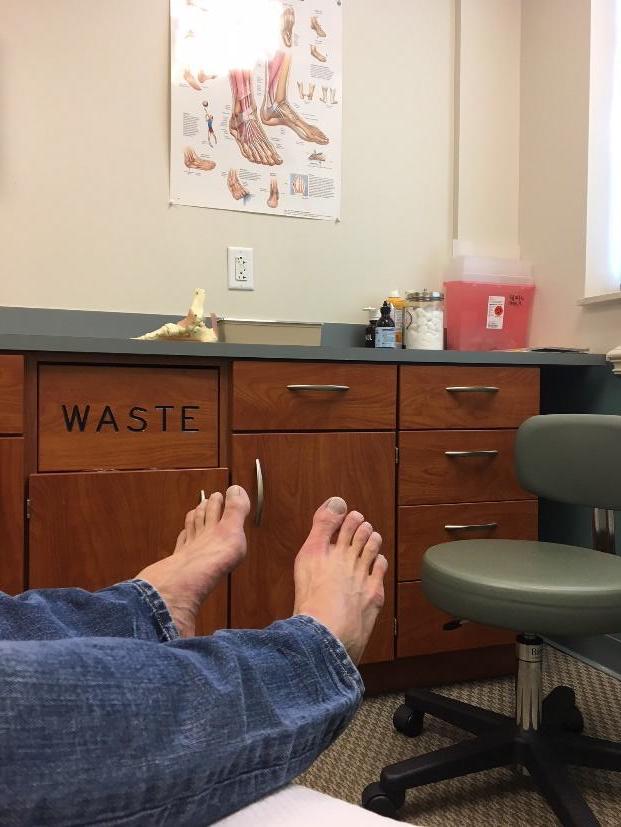 One of multiple trips to the foot doc.
I think it is important to note that my lovely wife had never stopped running and though she hadn't officially run a marathon…yet, she had ran 25 miles at a good clip late 2016.
Being that I was unable to run I had to build my cardio so cycling, swimming and rowing were my go to exercises. And when I thought I may be able hit the pavement I dipped my proverbial toe into the running water once again, very slowly though. I started with one mile, then run one mile-walk one, then run-walk-run, 3 run miles, 5 miles, etc., etc.. Next thing I knew "I was running". https://www.youtube.com/watch?v=LpP9q6qEmOY
Unfortunately, time was running out. No pun intended. The 2017 NYC Marathon was now less than 3 months away. Oh boy! We needed a short marathon running plan…STAT! We both found a couple of 2-month (8 weeks really) full marathon plans with slight distance and speed work each- seemed logical.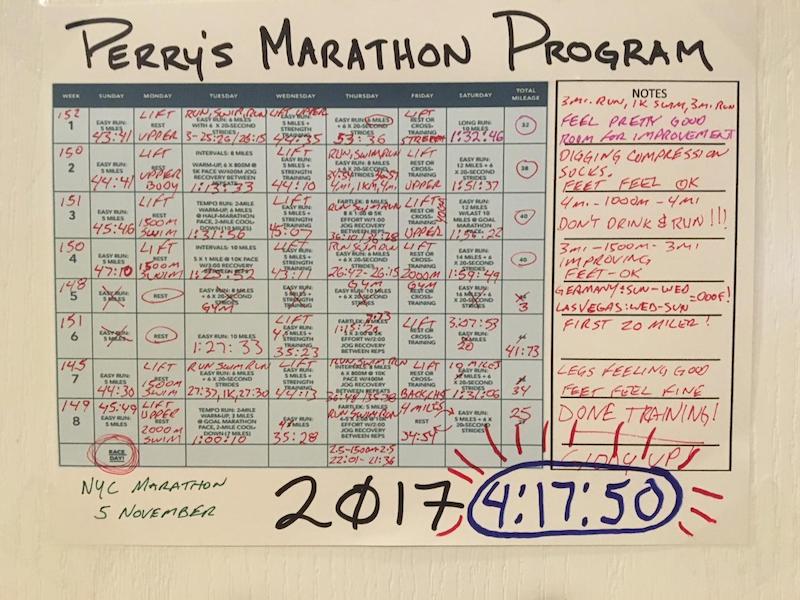 As far as training programs go it wasn't that bad. Maybe because it was only 2 months, but I learned a few things about my body, mind, spirit and most of it was positive. It was during this program that I tweaked my diet, tweaked my running ensemble, tweaked my running form, tweaked my schedule and tweaked a few body parts. The weather really cooperated during this period, thankfully, but I really got tired of seeing the same old roads and running in circles. Some would say I should be used to that as I've been running in circles most of my life. Anyhoo, it's hard for me to imagine big city running or having limited running paths. Hats off to those folks that do it!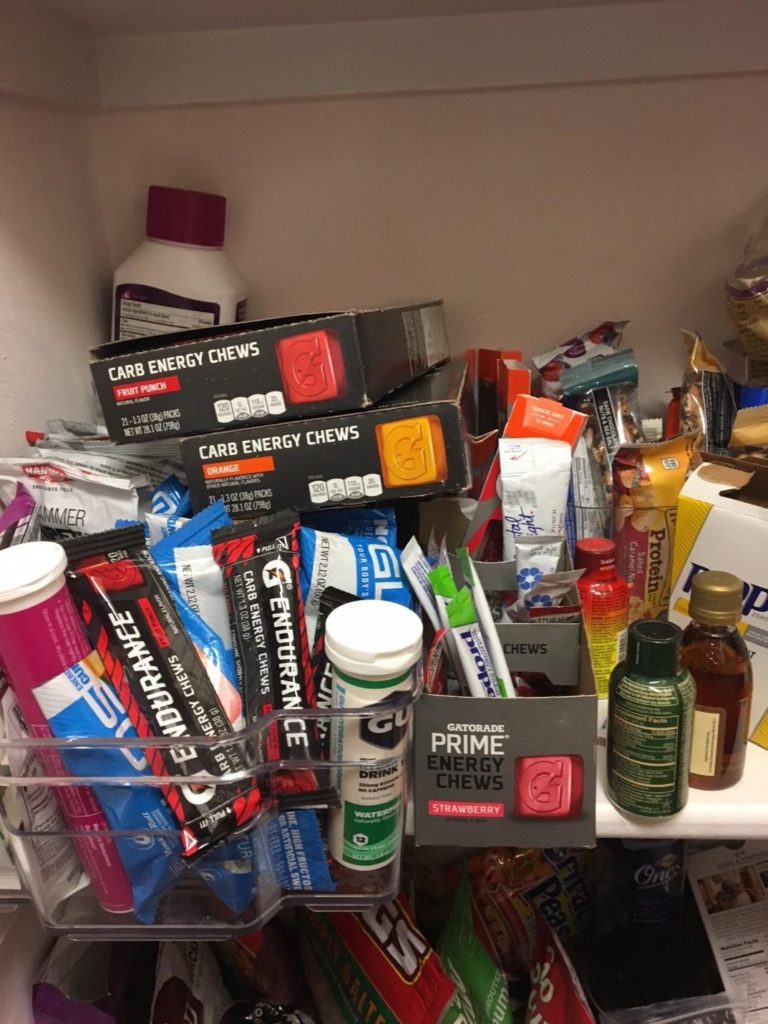 Runner's Corner of the Pantry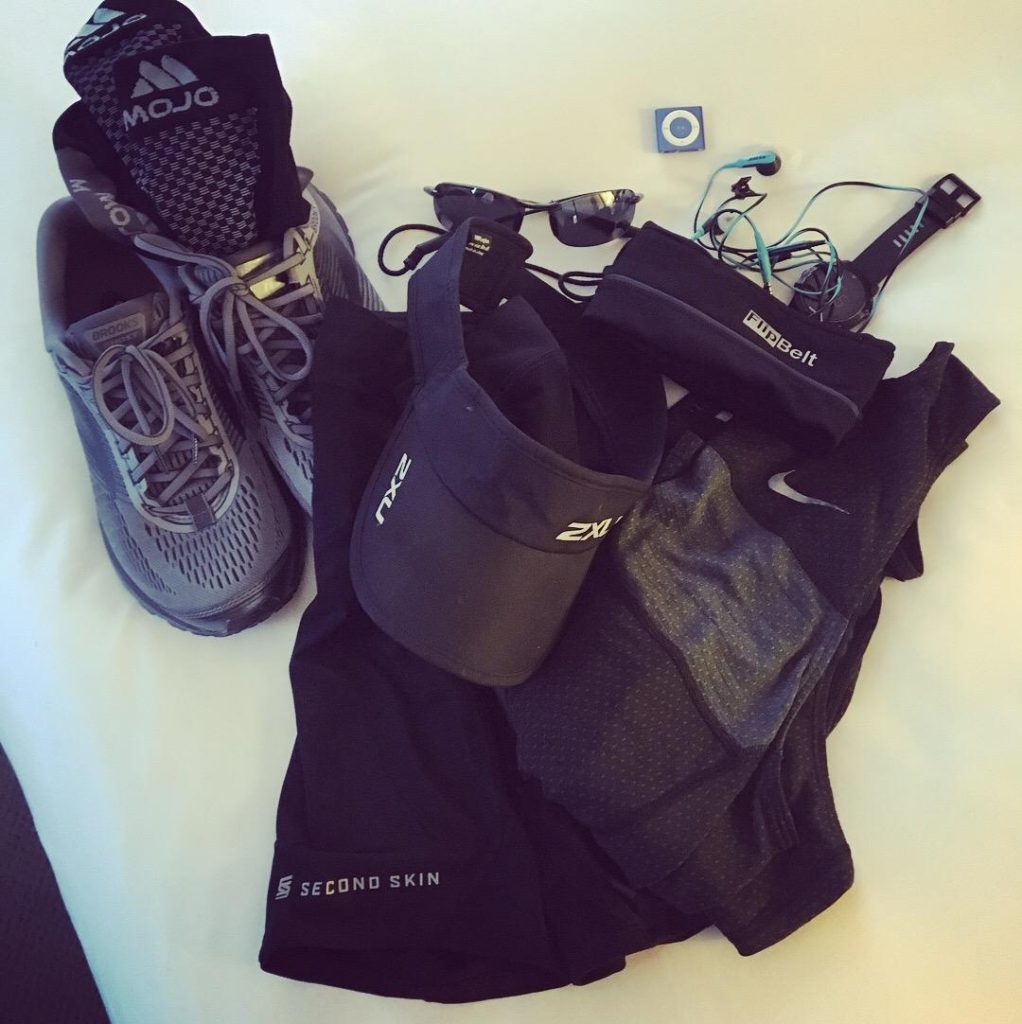 My Marathon Ensemble
From Head to Toe:
2XU Visor – I like this visor; lightweight, fits well and wicks sweat as it should
Maui Jim Makaha Readers (1.5) – My go to exercise shades; lightweight, comfy, but lenses tend to break at nose bridge…happened 2 minutes before start gun, still worked throughout the 26.2
Bose Sport Buds – They're Bose…nuff said, but I'll state they're comfy, loud and stay fit
Nike Running Singlet – OK for short runs, but after about 10-15 miles it'll start wearing on your nipples, literally. Probably look into New Balance like the one I bought at the Expo
Garmin Fenix 5 – This thing rocks! And tells time too!
Flipbelt – Sound concept; holds plenty of things, but retains moisture and when you're tired or your fingers are cold retrieving do-dads can be challenging
Ipod Shuffle/Underwater Audio – Lightweight, good sound and waterproof, but changing playlist is a bit of a pain
Second Skin Compression Shorts – Love me some compression; stops chafing and keeps "things" from jiggling around
Mojo Compression Socks – I dig them and a fan of compression, both during and after
Brooks Ghost 10 w/Aetrex Inserts – Comfy, not too heavy and no more plantar Fasciitis…"F" yeah!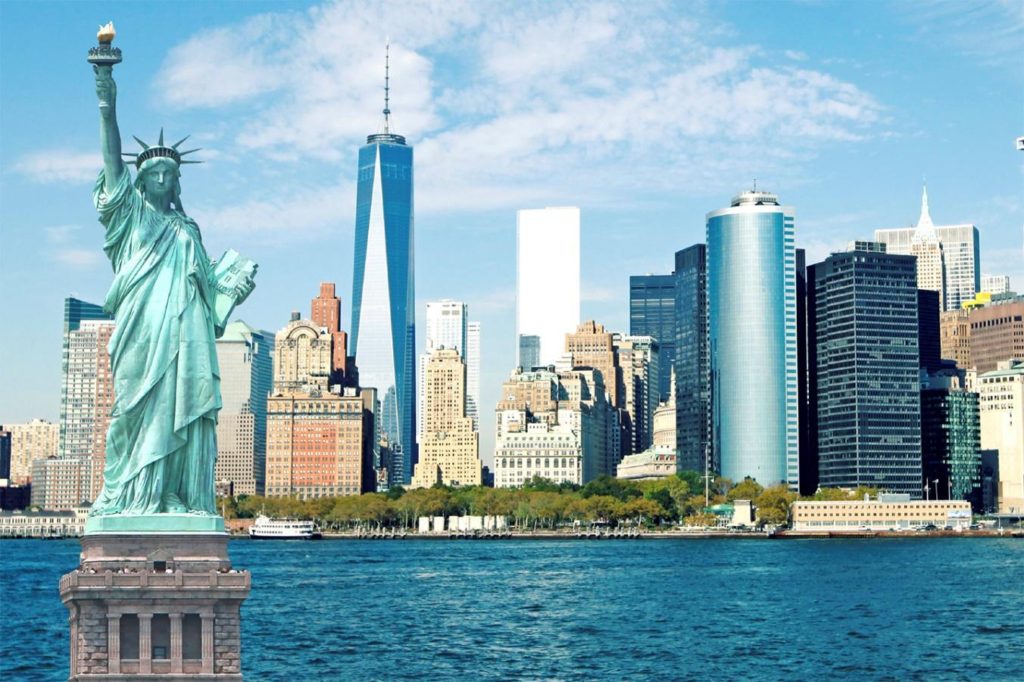 We flew up day before the race, got our bibs from the Expo, had a great lunch at Jean Georges, grocery shopped and met up with race friends for dinner. Then, all hell broke loose for my Sweetheart! She came off her pre-run diet and paid the man big time…poor thing. Neither of us slept well, but my night wasn't nearly as bad as hers. Regardless, she woke with a smile and kept it on the whole morning.
I need to mention Team For Kids (TFK) now. TFK is the charity we choose to enter the marathon. We had to raise about $5,000 between the both of us, but we did that the year before so we were good. The TFK buses were only a few blocks from our hotel at Central Park so the morning stroll was quite nice. We saw the migration of runners doing the same…so cool. There was an entourage of 26 TKF buses with a police escort all the way to Staten Island, the Start. So awesome! We followed the TFK volunteers to the TFK tent for some nice warmness, bagels, coffee, our own port-o-potties etc., etc., etc.. We were styling. They also brought in professional runners to provide some good advice…I remembered a few things.

The TFK Tent
Not sure how much they raised last year, but this year TFK raised just over $6,000,000 for the kids!
So even though my wife, Stacy, registered the both of us at the same time we were in completely different corrals. Strangely enough, I was in an earlier corral…hehe. We were unable to run from my corral and we completely understood why, but tried anyway, so I moved back to hers…hehe. Several hours later and after several port-o-potty trips we were at the Start!
Now remember this has been nearly a 2-year journey just to get where we were at this point in time. You could almost touch the energy. The song "Anticipation", though a good song, doesn't come close to this moment. Everyone smiling, saying "Good Luck", "see you on the other side", etc., and with a 1 mile start UPHILL looming right in front of us all, the Verrazano-Narrows Bridge. One mile up and one mile down…woohoo!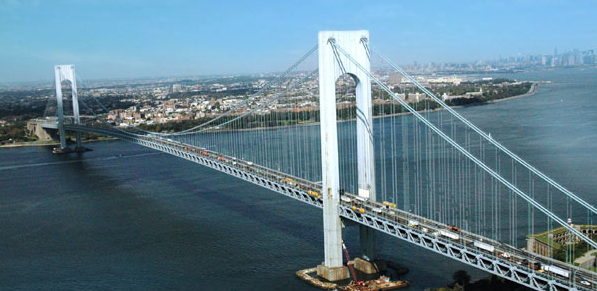 Verrazano-Narrows Bridge – Staten Island to Brooklyn
So let me back up on my timeline just a smidge. When my Babe and I "collectively" decided to run the NYC Marathon in 2016 there was an immediate competitive element to it…#teamstacy and #teamperry. All in good fun but people chose their side. Stacy had ALL the girls, little and otherwise, on her side of course and I had some dudes in my corner. In all fairness I can appreciate it and apparently not many like rooting for the underdog these days as they prefer a sure thing. What Evs! So this competition carried over into 2017. Just before the race I had TWO in my corner, a guy I've known for years and an employee in the company. Not saying that being an employee of mine made a difference as NO ONE ELSE seemed to care. What Evs! And then one chickie! My wife! Hmmm…sympathy? What Evs. My wife and I talked about running together and that would have been cool, not to mention saving me from an embarrassment and she stuck by me and deferred so why not. After some discussion and some soul- searching we decided to run our own race at the pace that was comfy. Good call.
Five Boroughs Here We Come!!!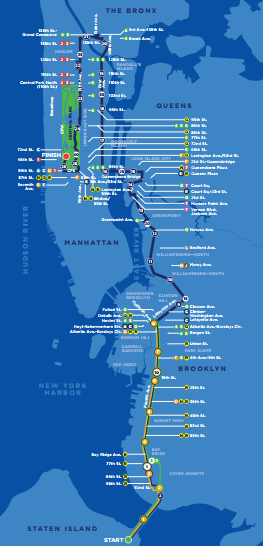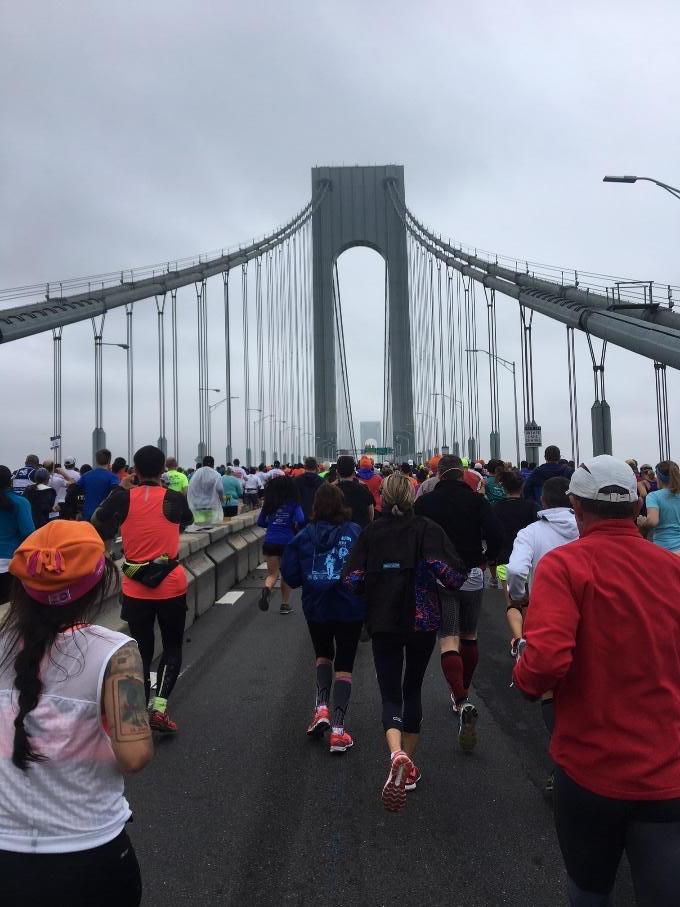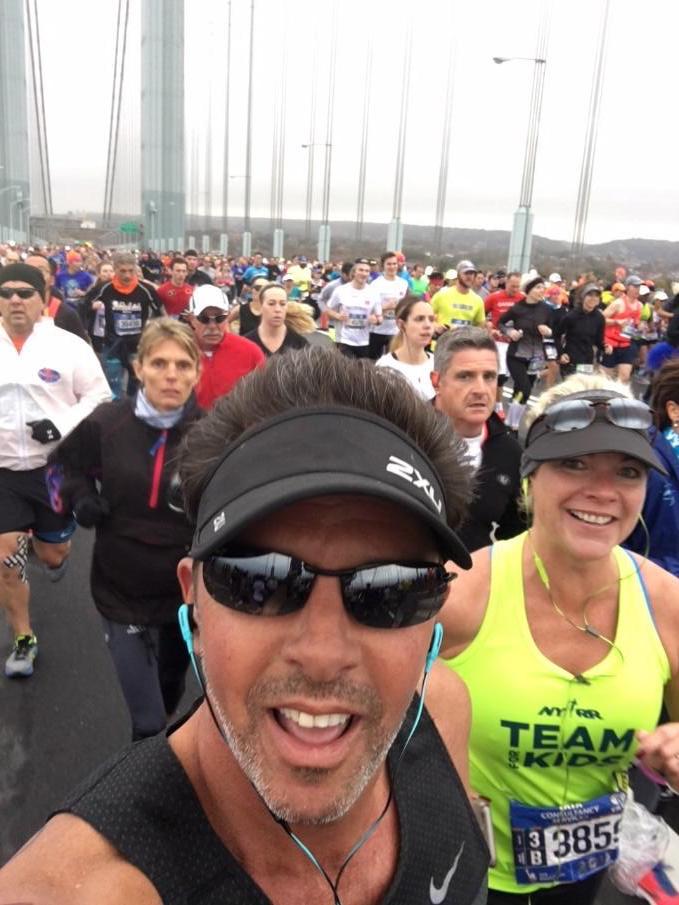 The Verrazano-Narrows Bridge
The first 5 miles were so phenomenal! I barely even noticed the huge bridge now behind us. Stacy seemed to doing fine, my stride was evening out, saw our friends at mile 4.5 and had heaps of gas in the tank. The New Yorkers came out in droves to cheer everyone on! I've never experienced anything like that before. Sure I've run a few local ½'s, which are cool, but not to this level.
It was around mile 5 when I turned to my Babe, the mother of my children and love of my life, and said "I think I'm going to see where my pace takes me." We gave each other a loving look and wished each the best, of course. At mile 7.5 I twisted my ankle. I wasn't paying attention to the irregularity in the road and my left outer ankle nearly touched the pavement. It hurt-ish, but not bad enough to even think about stopping. I got a mile and I thought "all is good." About 10 miles later my body reminded me who was who in the body zoo and I felt it. Still, not nearly enough to stop as I knew my wife was going to come up behind me, smack me on the ass, and say "giddy up old man!" so stopping wasn't really an option.
They say that a marathon race doesn't really start until mile 13 and I tend to believe it so. Mile 16 was all uphill and that made the first mile seem like a kiss with a tail wind. Mile 20 and the last bridge was brutal. I had heard about this moment from previous runners so I was mentally prepped. Good thing, lots of peeps stopped, some tossing cookies, others just looked downright miserable and that was some of the more pleasant sights. I trudged along on what seemed like two wrecking balls. I tried doing some side running and thought my legs were going to fall out of their collective hip joints so I stopped. I kept on trudging nonetheless.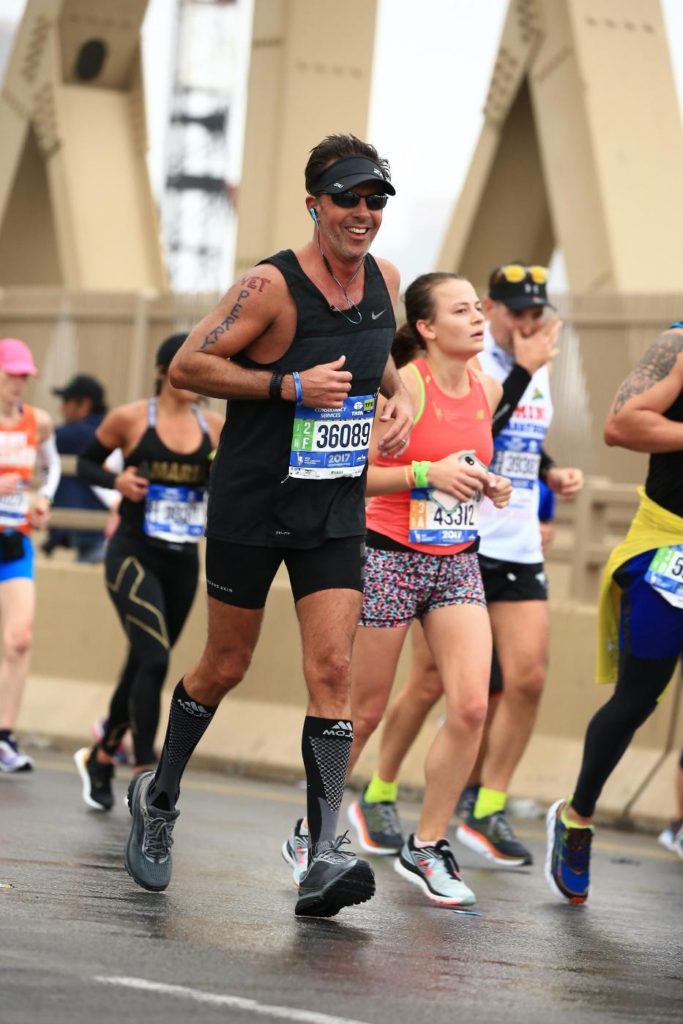 Last Bridge on Course
Past the Bronx now and headed into Manhattan, I couldn't wait to see Central Park. I walked through the last 5 or 6 water points, but ran throughout the rest. Still I was waiting for my wife to come up behind me at any moment, smack me on my ass and say "giddy up old man!", but it never happened. Maybe I missed her on my one wiz break or just maybe missed her going by, it's possible. I had my phone but hell if I was going to hassle with that anchor at that point. I really wished she had come along as I'm sure it would have helped; not to mention how cool it would be finishing together! But alas, it was not meant to be. Stacy had her own demons to deal with and by the sounds of it they were straight from Hell.
Me, I was going to run the wheels off this bus even if I lost all of my front teeth from hitting the pavement face first.
Last mile! I knew it well. Our hotel was just in front (so close) and I've been up and down this street so many times in the past. My energy picked up, and maybe my pace, my legs didn't feel as leaden anymore, the pain had subsided. One more right angle turn and then it's pretty much done. It felt so good, crowd was cheering like I was a running back from their favorite football team, headed to the goal line and I felt that way as well, minus the speed and money of course. I knew this one was in the books!
Here are a few photos of the path to the finish: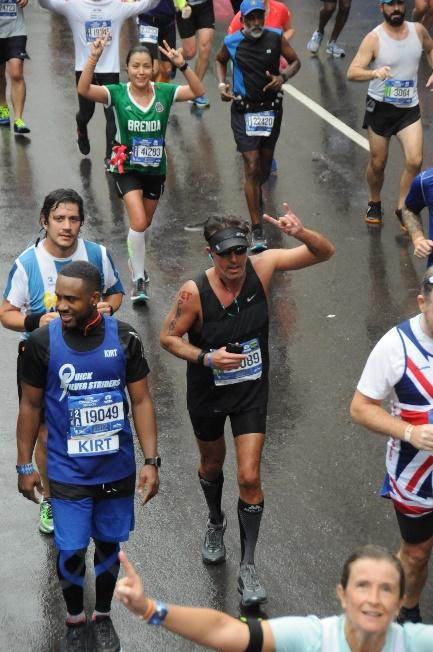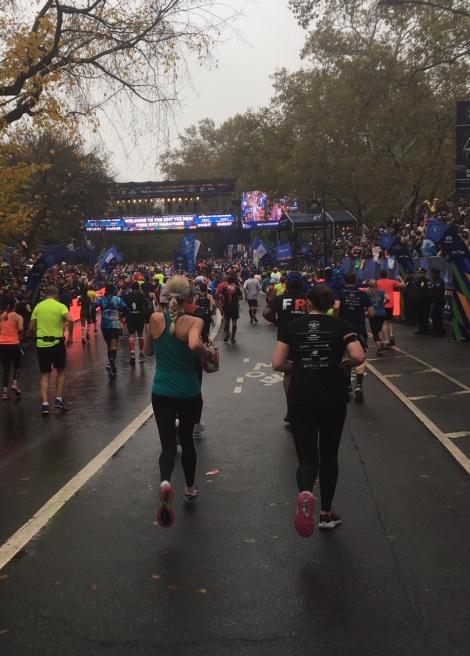 Here a few lessons I learned up to where you see me in the pics above:
Most important – You cannot cram for this exam. Unless you're a veteran runner, 4 month training program for sure. Which is harder, the training or the race? Training if you do it right! If not, standby for some serious ass pain on race day.
Plan your run and run your plan – Don't change your running gear, diet, or pace plan.
Find a diet that works and works well – Not as hard for me as it was for my wife, but still important of course.
Crosstrain – This saved my bacon! Whether it was lift-run or run-swim-run you've got to mix it up! The run-swim-run really helped me I feel. Run 4 miles, swim 1.5 miles, run 4 miles again…that'll get you good.
Need the long run – Thank God I deviated from my training plan a little and did a 20 miler. Knew what it felt like so I knew what to expect. A big mental plus.
Drinking during training – Well, probably not recommended, but what the hell? Just need to practice. Cheers!
No Zig-Zagging – Even though it was mentioned by a Pro before the race I apparently didn't pay it much heed…ran 27.4 miles instead. Dumbass!
Hydrate and Fuel during Race– A MUST! That is unless you really like to BONK and bonk hard.
I'm sure there are a few more nuggets to share, but those were my biggies. Everyone will be different of course, but some advice is well…just plain good advice.
Would I run another marathon? Ha, great question! We're already planning on doing the Major 6, NYC being 1 of 6 and on the record books so only 5 more to go!
Chicago – Already Registered!!!
Boston
London
Berlin
Tokyo
Here we come beotches!
One parting thought before I leave you with some closing photos. I'm 52 and just finished my first marathon with at least 5 more in my future. I saw so many people on the course a lot older than I and quite a few others with disabilities. If you use a roadblock or a hurdle as an excuse to quit then you will most assuredly quit/fail…100% guaranteed. But, if you view the same roadblocks and hurdles as just that figure out how to go around, over or through well then, you're unbeatable because you haven't let yourself been beaten down. I've been humbled from what I saw on 05 November 2017 through 26.2 miles of New York City, an awesome and inspiring memory.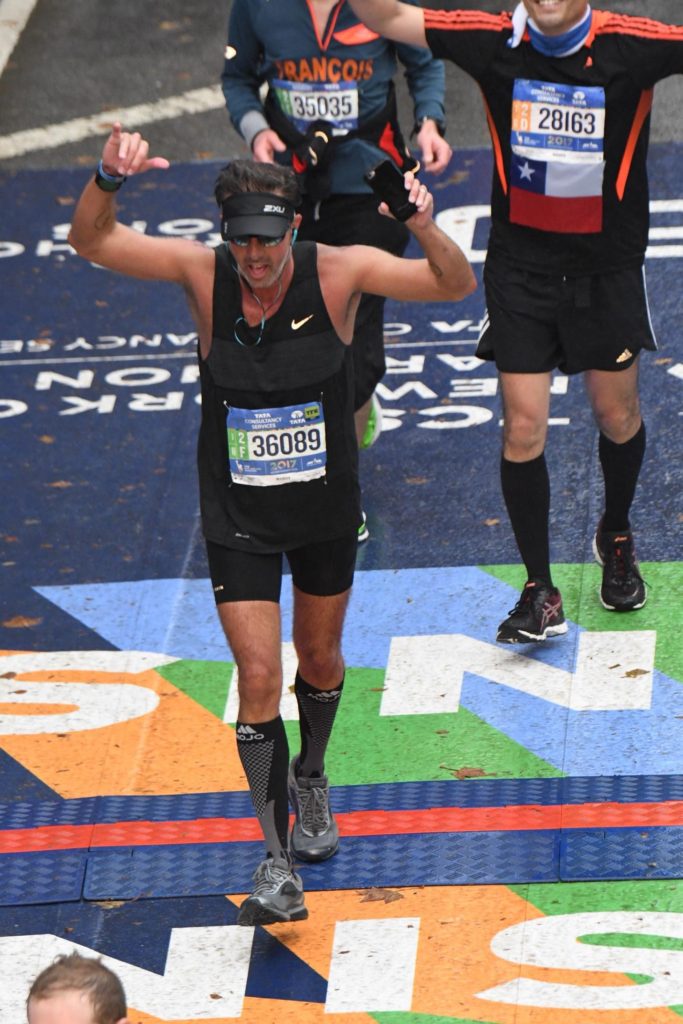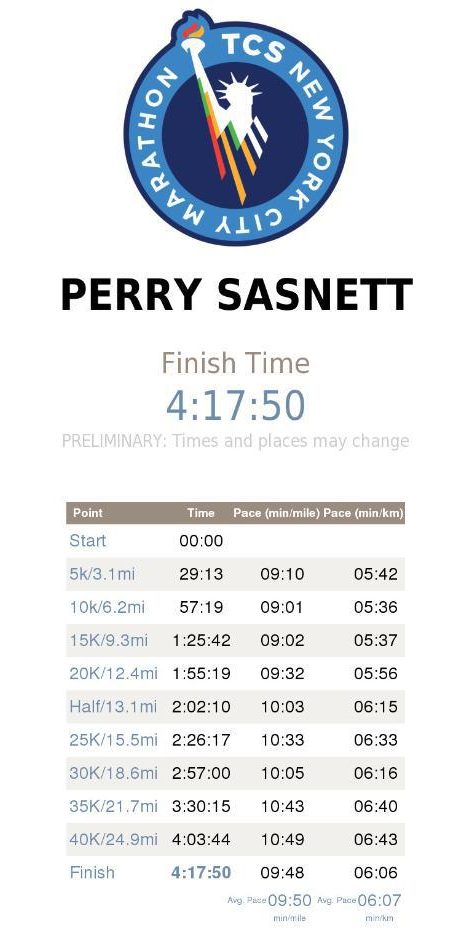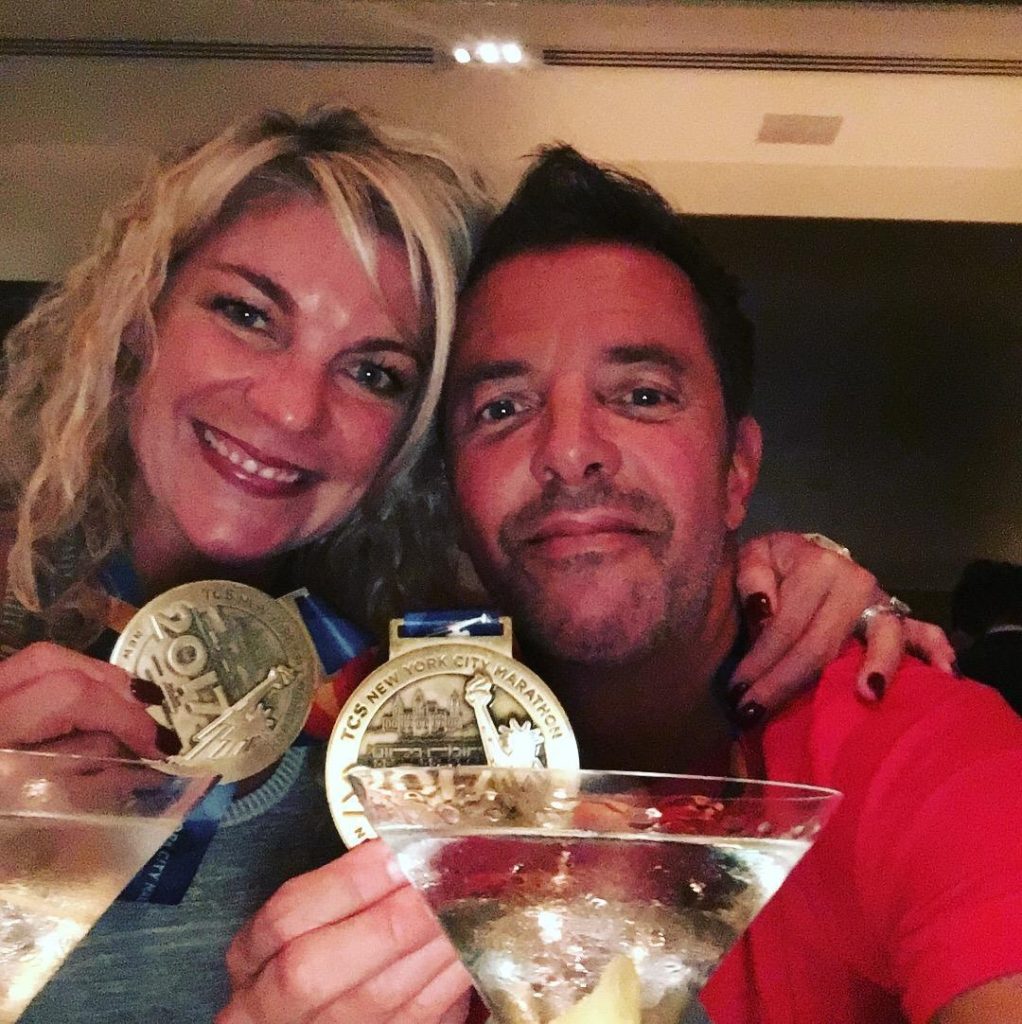 PEACE OUT PEOPLE & HOPE TO SEE YOU ON THE ROAD RUNNING!
Keep Up with My Marathon Journey.
And keep an eye out for my next blog, completely unrelated to running…"Martini's on Mars- An Introspective on Douchebags and Dickheads".
Follow me on Facebook www.facebook.com/perrysasnett
Check out my photos on Instagram www.instagram.com/perrysasnett
Join my running discussions on Twitter www.twitter.com/perrysasnett
Visit my official website for family, fitness, and lifestyle www.perrysasnett.com
Check out Stacy's marathon stories at www.perrysasnett.com/stacy-says