Personal opinion or is there a clear winner?
And I mean any beverage that contains alcohol: wine, beer, whiskey, sake, etc., etc..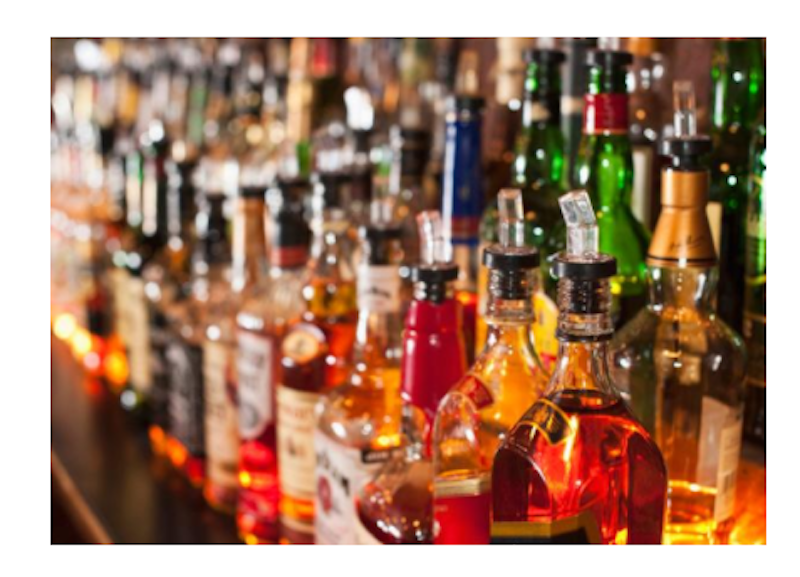 Now I've been drinking, legally, since I was 18 years old.  Born and raised in Florida had its perks many moons ago.  Point being, I've had my fair share of alcoholic beverages, both good and not-so-good, in the past 34 plus years.  Being that I'm a "ma-tour" fella and decent connoisseur of booze I feel that I can speak to this adequately enough.  I mean I've had a lot of beer, wine and spirits from around the world and not sitting at the local pub down the street (though I've done plenty of that of course) and doing the around the world tour that way, but from the actual country of origin.  20 years in the US Navy helped out an awful lot in that regard.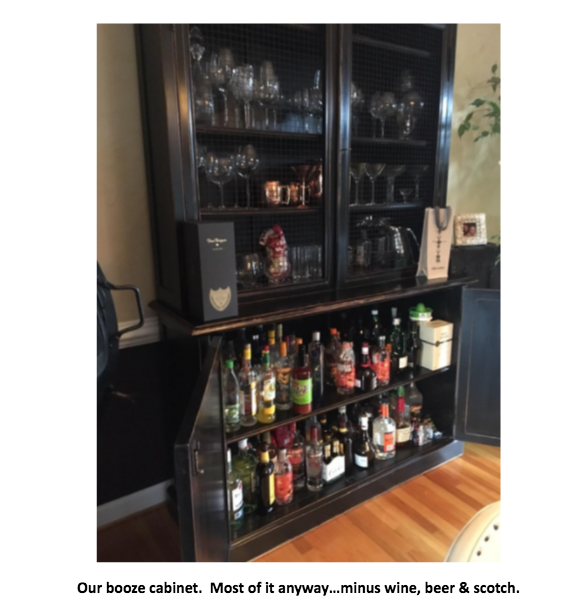 So let's get at it!  Anyone who does drink, and by drink I mean booze in its multiple forms, usually has their favorite "go to" beverage and I'm no different.  Some stick to the basics and stay within a certain drink line, like beer or wine, while others may drink according to the occasion or time of day; Bloody Mary in the morning, beer during the day, and wine for dinner, e.g..  Hey, I'm a huge proponent of drinking options.  Nothing like a little "hair of the dog" to kick start the day after a late night bender…followed by whatever floats my boat and wrapped by something that in all likelihood represents the night before.  My drinking palate is fairly diverse, but I tend to stick to my faves: vodka & wine, both red & white.  Though Cinco De Mayo, right around the corner by the way, calls for tequila (pronounced ta-kill-ya) and I'm absolutely good with that…a lot of that for that matter!
Okay, enough chit-chat.  What is the best booze?  We could break it down into categories, such as time of day or occasion or even taste, but the latter is absolutely opinion based.  Now you could, and many do, drink any booze you want at any time of the day, but let's face the fact that most reasonable-minded folk usually choose according to the time of the day or what they're doing.  Example, a sports game is the perfect place to drink beer, but one could easily put it in your cheerios should you feel so inclined.  Can't say I ever have though.  Point being, beer is a good all-around alcoholic beverage, but better suited to midday through the night type of drink.
Let's layout the booze options: beer, wine (red or white), whiskey, bourbon, sake (though technically rice wine it's different enough to warrant its own category), champagne (like sake), vodka, liqueurs, gin, rum, scotch (different from whiskey like sake is to wine), port (different enough from your average wine), and moonshine.  For the sake (note Japanese Sake) of ease let's group a few together.
Booze Types
Brown Liquor – Scotch, bourbon, whiskey.

Rum – Dark and Light.

Vodka

Gin

Wine – White and Red and any shade in between, to include Port.

Champagne

Beer – All sorts.

Sake

Liqueur

Moonshine
Categories for alcohol consumption:
Taste – Strictly opinion oriented.

Time of day – Can be personal, but could lend to a certain type.

Occasion – Same as time of day.

Miscellaneous – Fuel, surgery, barter, cleaning.
Note: Didn't include calories as this IS NOT a health or fitness blog.
Now I cannot possibly speak to or for the 100's of millions of "juicers" out there, but I can absolutely tell you what I like and what my wife likes to a good degree as well.
Now let's presume I'm going to be drinking all day as it's my day off and I have ABSOLUTELY zero responsibility.
Morning – Depending on the night before, but my usual "go to's" are mostly vodka based.  Here's the list.
Bloody Mary – Usually a good recovery drink from a fun night previously.

Ruby Crush – Love this drink.  It's sweet and tart and packs a wallop.

Orange Crush – Similar to Ruby, but a bit sweeter.  Still so good.

Screwdriver – Safe and dependable.  Hard to F-Up.

Mimosa – With a healthy splash of Triple Sec.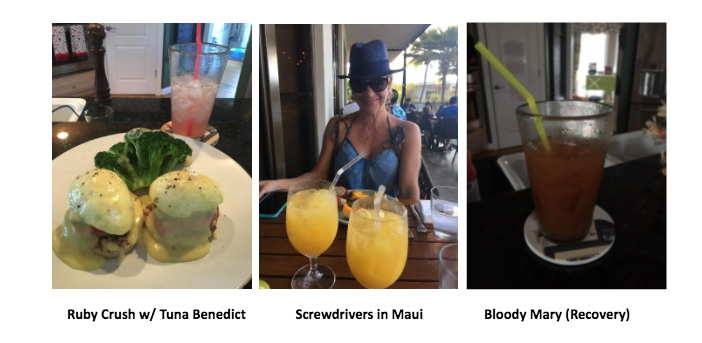 Midday – Depending on if and how much I had in the morning, if I'm eating lunch and where.
Vodka & Tonic – My safe go to and goes with most of what I like.

Beer & Sake – Won't eat sushi without either.  Also a dinner fave.

Margarita – Goes perfectly with Mexican food, like peas go with carrots.

Sangria – Really nice coasting beverage and the white sangria is nice on the beach.

Beer – An all-around drink that fits in pretty well at almost any occasion and time of day.

White wine – Great lunch bev and a good coaster drink if it's a long day of drinking.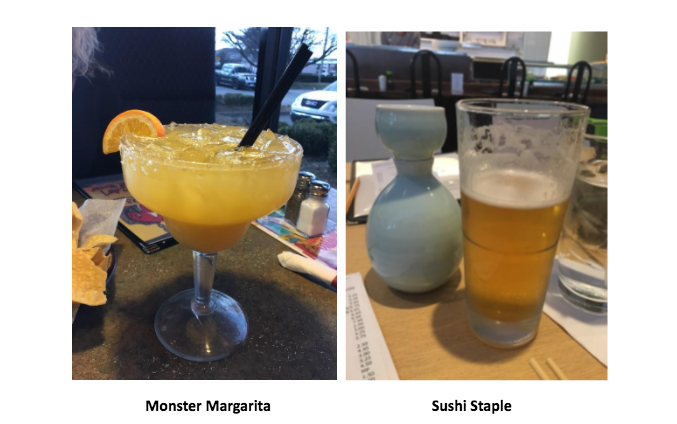 Evening – Before, during and just after dinner…anywhere.
Martini – Nuff said.  Have one every night and when I don't it means it's really not an option.  Of yeah, that's vodka martini btw.

Wine – Red or White, depending on what food I'm throwing down my throat.

Cappuccino with a shot of Frangelico – Dessert.

Port – Yep.

Espresso Martini – Post dessert…dessert.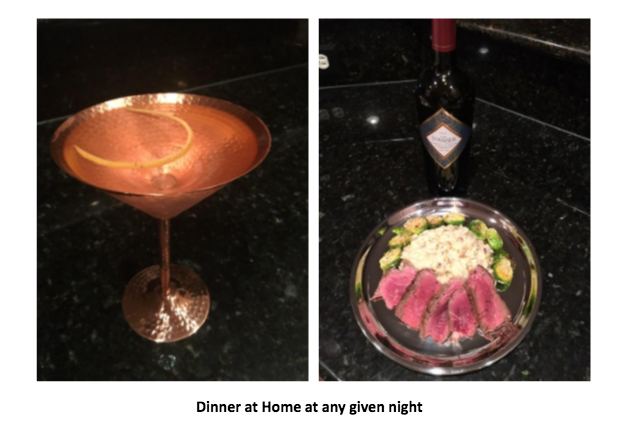 Late night – Any time well after dinner.
Vodka and Tonic – My go to.

Georgetown – Go to shooter.

Beer – On occasion, but rare these days and almost always Guinness.

Vodka and Red Bull – In case I'm dragging, tired of tonic, or just too knackered to know any better.

Single Malt Scotch – Oh Yes!
Other occasions – Like any social event.
Jello Shooters – My go to "bring something" party treat.  Vodka of course.

What are my options? – This is where my preferred choice is not an option so I have to pick…other.   So that pretty much means anything.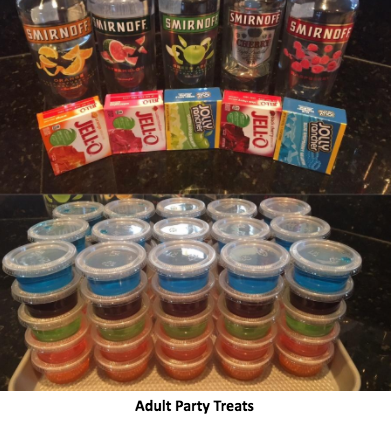 I started putting together a nice eye-candy chart for easy reference, but as I got into it I realized just how futile it was and deleted about 30 minutes of effort.  Way too many variables to capture in a single chart: taste, time to drink, reason to drink, mixer compatible, investment fuel ready, medicinal, and a bunch of other reasons I'd have to google to figure out.  Even then, there's a high level of personal preference.  So, I thought the best way to approach it is by volume and versatility.  Below is a graph from the following website showing what booze type is used the most from a list of 115.  Beer and wine not on the list.
http://gizmodo.com/5899481/the-five-most-mathematically-essential-bottles-of-booze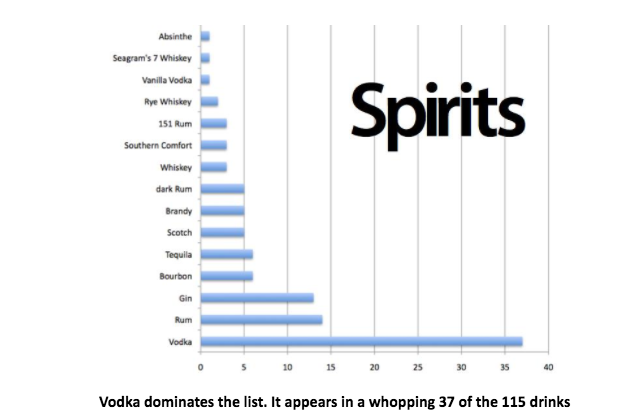 As for versatility, well that can be subjective as some would/could argue about the taste or lack of it for any given liquor.  Personally, I think vodka edges out Gin, Rum and Whiskey because it has no flavor, unless it's flavored of course.  Being odorless and stainless can be a plus if you spill any on yourself, it'll keep longer than you, clean with it if you'd like, minor first aid, etc., etc..  All the above and more is why I feel vodka is the clear choice, but of course it's really up to the individual isn't it.
For fun I've provided a link with all the wide and wonderful things one can do with vodka.
 http://list25.com/25-home-uses-for-cheap-vodka-besides-drinking/
Honorable mention goes to both Beer and Wine!  Those are both widely consumed and both come with a plethora of tones, styles, and flavors.
Here are my favorite, "go to" drinks and the time of day I "usually" partake as well as how to make them.
With any breakfast – Ruby Crush.  Adjust the parts to your liking, but I like plenty of the clear stuff (not sprite)
        Pint glass

        Freshly squeezed grapefruit juice

        Absolute Ruby Vodka

        Splash of cranberry juice

       

Splash of Sprite

        Splash of Triple Sec
During lunch – Vodka & Tonic usually, but a nice Chardonnay works too.  A Guinness is nice if poured correctly.
Pre-Dinner – Vodka Martini.
        Chilled martini glass, 8 oz

        Tito's Vodka, chilled if possible

        Twist of lemon

        Extremely dry, DO NOT even look at the vermouth

        Well-Shaken, I mean tooth-cracking cold
Dinner – Assuming a nice Filet Mignon or Tomahawk Ribeye…Opus One!
Post Dinner – Either more wine, or a Vodka & Tonic or a Vodka & Red Bull
Late night – If I make it this far.  Vodka and Red Bull or a nice Single Malt Scotch (Balvenie 30 year) or an Espresso Martini.
        Chilled martini glass

        2 oz of Espresso

        2 oz of Van Gogh's Double Espresso vodka

        Splash of Frangelica

        Splash of White Godiva
Regardless, if you agree or not with the above I think it's safe to say that booze, in whatever form, can be both a very enjoyable experience opening up new doors (some weird ones too) and a great way to meet new and interesting people.  On the flip side, it can be a person's or family's undoing if abused.  Have to sound like a commercial, but drinking responsibly is…well, the mature and responsible thing to do so we can all continue to enjoy our favorite libation.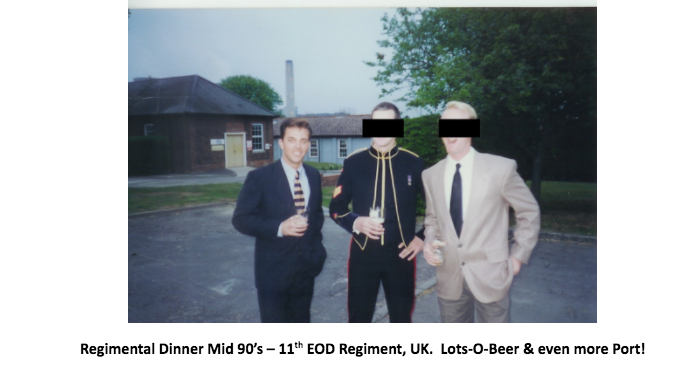 Hope you enjoyed to the read.  Have a Happy & Safe Cinco De Mayo.
Cheers!
Did you enjoy this post? If so, share it with your friends!
Check back often for new articles on Lifestyle, Fitness and More.
Connect with #TheBombGuy on Social Media.
Like my page on  Facebook www.facebook.com/perrysasnett
Follow me on Twitter www.twitter.com/perrysasnett
Follow me on IG www.instagram.com/perrysasnett
Subscribe to my channel on YouTube www.youtube.com/PerrySasnettOfficial
Visit www.perrysasnett.com for updates.
Related articles across the web