Or as my wife put it, "no one likes a show-off."
Last month my wife and I started a Wellness Program within our company; intent being to motivate our team into a healthier and happier lifestyle, both at work and home.  We've asked each employee to choose a challenge or 3 that is both obtainable and well…challenging.
If the scale is "1 = Do it in your sleep & 10 = Die trying", the goal should be between 6-9, depending on motivation level.  We've set different timelines for the year: 1 month challenge, 3 month challenge and 6 month challenge.  Some of the challenges being: to drink "X" amount of water daily, quit smoking (good one that), "X" amount of steps daily, 100 sit-ups in 2 minutes, lose weight, etc., etc.
Well, last month (February) was the pilot program so that we could work out the kinks before launching the "Official" program in March.  Stacy, my wife, picked up jump roping and going gluten-free (GF) for the month.  Two worthy challenges.  For myself I chose gluten-free as well because it made dinner so much easier if we were on the same sheet.  Plus, I was gluten-free curious.  My other challenge was to row 2000m in under 8 minutes.  Just to clarify, my two goals were to go GF and row, not lose weight.
We were a bit apprehensive initially about the gluten-free bit, but figured we could suck up anything for a month and February was a short month anyway, hehe.  As it turns out, going gluten-less really wasn't all that hard.  Reading the ingredients on everything, unless it stated GF, was probably the toughest part.  I'd read the ingredients and say "Good to Go" and then Stacy would read them and find flour.  I blame old age and poor eyesight.  Also, the fact that we're not big beer drinkers helped.  However, if Vodka and/or wine had gluten it would have been a different story altogether and we would've done something else for sure.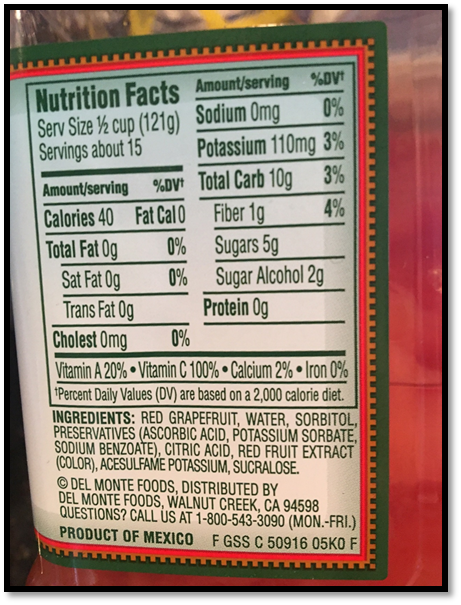 I weighed in about 163 at the beginning of the month and as I mentioned above weight loss wasn't really on my mind, but I was curious to see the end of month results nonetheless.  I was mostly concerned about making the row time as it had been kicking my 3rd point of contact (arse) up to that point pretty well.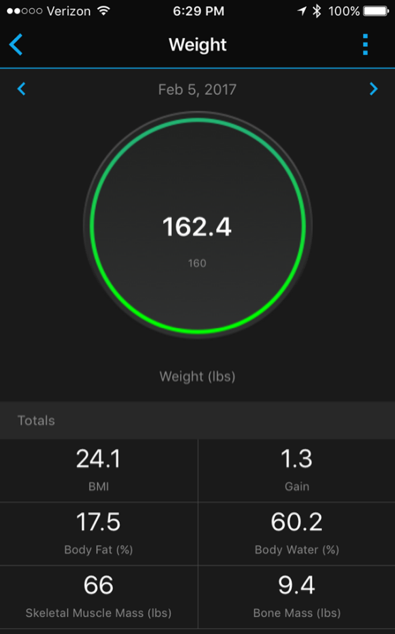 My average weekday chow schedule being:
Morning – 1 cup of joe, a pre-workout snack (mostly grapefruit for me) and maybe a workout supplement. Glass of milk, handful of sprouted watermelon seeds and a hard-boiled egg post workout.
Throughout the day – maybe sushi, maybe cheese, some type of nut, or lunch with my wife somewhere that had GF eats.
Dinner – This really didn't change all that much, but we did stay away from pasta the whole month and had to buy GF soy sauce as we eat a lot of rice. Oh, and we ALWAYS have a pre-dinner martini and wash down our chow with a nice bottle of vino.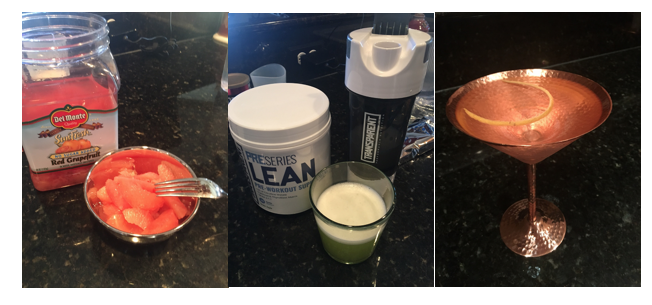 As for the weekend, well, we mix it up a bit.  Saturday is still pretty much on your own until dinner, but Sunday is almost always Funday.  Starting off with a tasty breakfast beverage like Bloodies or most likely a Crush of some sort, either orange or ruby (yum).  Of course I have to make slab of bacon for all to snack on until the main event.  Eggs are always on the menu and it's just a matter of how they're prepared: fried, scrambled, poached, omelet, quiche, frittata, etc..  However, for the month I really got into a spicy cheese omelet with avocado and smoked salmon.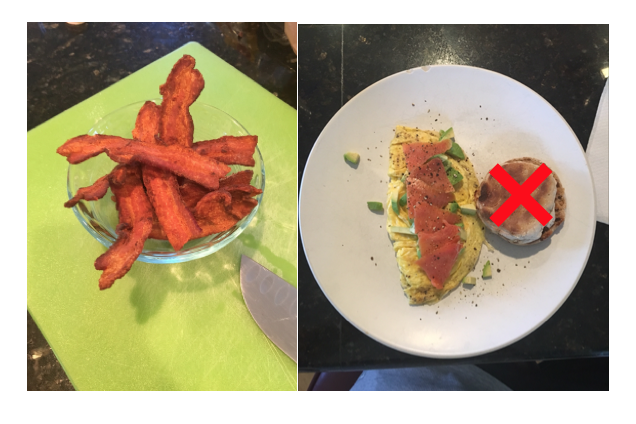 Don't worry, that english muffin was in March, I promise!
Now for exercise, I ran about 3-4 times a week averaging 3-5 miles, nothing too crazy.  Strength training with dumbbells, pull-ups, sit-ups, bench dips, swimming and of course rowing.  I alternated from weight training to cardio every other day.  I was really happy to be hitting the road again after a 5 month hiatus from 2 stress fractures.  I did have to back off upper body a bit as my left shoulder had been bothering me for months and finally saw a specialist.  X-rays, MRI's, chiropractor, a bit of PT and a cortisone shot later it feels a little better.
Fun fact:  Didn't know the shoulder was the most complicated joint in the body, but it makes sense now.
Now like I said, I wasn't concerned about losing weight though if I lost a pound or two along the way great!  Even though I say that I did notice that my weight was dropping and faster than previous months.  Honestly, I got a little excited, not get in trouble in public excited just pleasantly pleased.  Losing a few lbs. would help my run.  Now I cannot say, definitively, what attributed to the weight loss, diet or exercise, but I imagine it was a combination of the two…higher cardio and fewer carbs.  All I know is that I lost a solid 8 pounds!!!  And as a small frame "mature" male at 163, I really didn't need to lose all that much.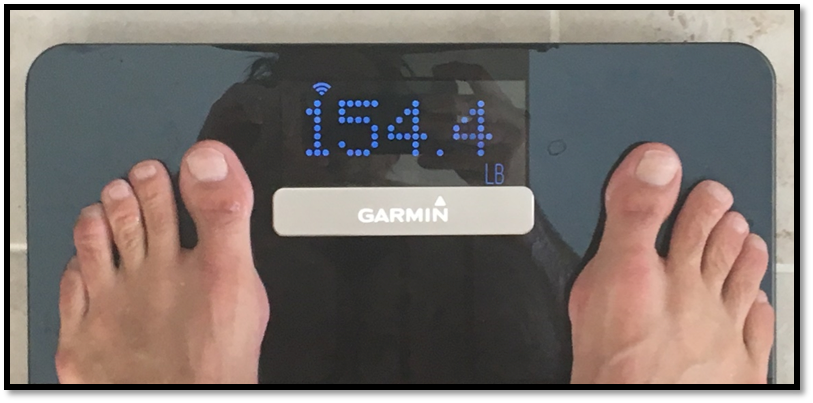 162.4 to 154.4 in 30 days
Of course that's all well and good, but I still had my rowing challenge to complete and I wasn't really sure I'd get there.  As for the GF part of the challenge, not that big a deal really just came down to paying attention to what you threw down your throat.
So, it's February 28th, the last day of the GF diet and the last chance to make the row challenge.  So I did my usual pre-workout bit, went upstairs to our home gym, strapped into the Concept 2 rower, meditated for a few minutes to get the "Engine" going and tore into it!!!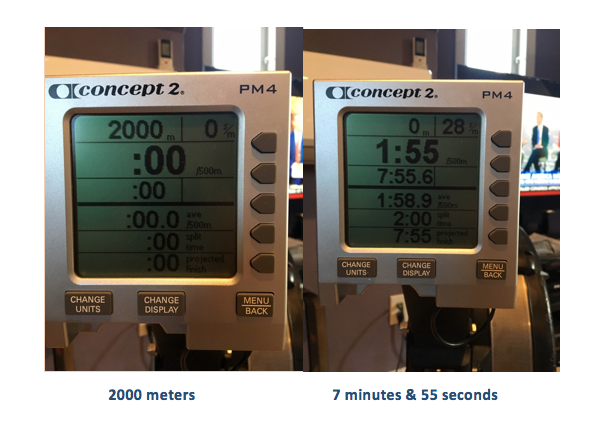 Whew!  That was kinda close!
The pilot program was a success we're now into the first month of the official challenge.  Everyone is super motivated and charged to see each other succeed.  So awesome!  My wife and I are not staying GF, but we are gluten aware now and I think that's a good thing.  I've a new set of challenges, not weight loss oriented, but if I pay some attention to my diet and with my challenge list I'll probably lose a few more pounds.  I'm told to stop at 150 which is good for me as that's a good running weight.

My March challenges
Stay tuned to see how March ends.  And as a little P.S., I use to weigh 175 a few years ago.  Not a good weight for me as I looked like a bullfrog standing up when naked, all belly and no ass that is, not a pretty sight!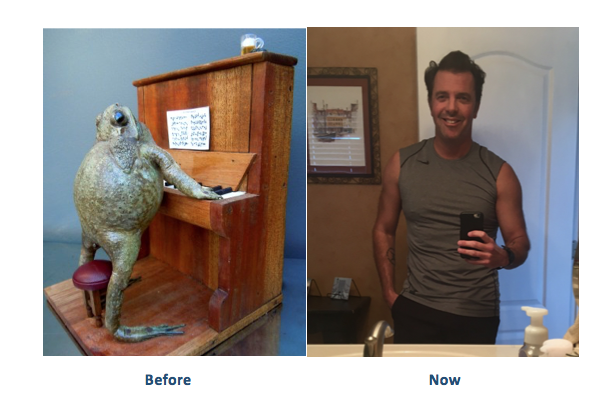 Kick off your own fitness challenge, check back for more wellness tips as I track my progress.
Let's talk health and wellness. Connect with me on social media.
Follow me on Twitter www.twitter.com/perrysasnett
Like my Official Facebook Fan Page www.facebook.com/perrysasnett
Check out my progress in photos on Instagram www.instagram.com/perrysasnett
Visit www.perrysasnett.com for more health and wellness articles.
Related articles across the web