My First Time in the Same Room as The President of the United States
Being in our Nation's Capitol on Inauguration day was an experience like no other in my life. While I can say is was a pretty awesome experience, I probably will not do it again, at least not without a proper invitation.

We attended the All American Ball and the Freedom Ball back to back nights.  That's right, I said it "Back to Back Balls" kind of ended up the comical theme amongst the party we took along with us. I honestly didn't know how to respond to the girlfriend when sent me this text the night prior to going to DC:
Girlfriend: "Hey! What are you wearing in between Balls?"
Hmmmm
Me "I've never been asked that before…"
I felt that was a safe answer, but the humor stayed in the ditch for the duration of our journey.
I packed what any abnormal 39-year old mother of two, wife of a Retired Officer (whom will be wearing his Navy Dinner Dress Blues at the Freedom Ball) would pack:
4 Gowns
3 pairs of Heels
2 clutches
1 fedora
1 pair of boots
1 pair of jeans
my favorite Lucys
and the kitchen sink…
After all is was for a sound two days.
We had a beautiful view from the Watergate Hotel, which was pretty impressive in and of itself. I'm thankful we stayed there, the facilities were quite appropriate when adorning yourself for a Ball or two. We ran into a few folks at the Hotel bar our friends recognized from their favorite TV shows. I didn't recognize anyone so when I asked Dean Norris aka Hank Schrader from Breaking Bad if we could have a picture, he didn't realize I was asking him to take ours! A little giggle on my behalf.
All dressed up and off to the All American Ball with explicit directions about road closers and the best way to get there. Gown's on, hair's up, red lips, in my new favorite Ted Bakers we started toward the metro, hopped off one and on to another then walked the rest of the way to the Hyatt. My Ted Bakers suited me well! The American Ball was fun, we listened to Buzz Aldrin talk about how much he liked scuba diving and witness a personal business mentor, Ken Falke, receive an award. Well worth the trip already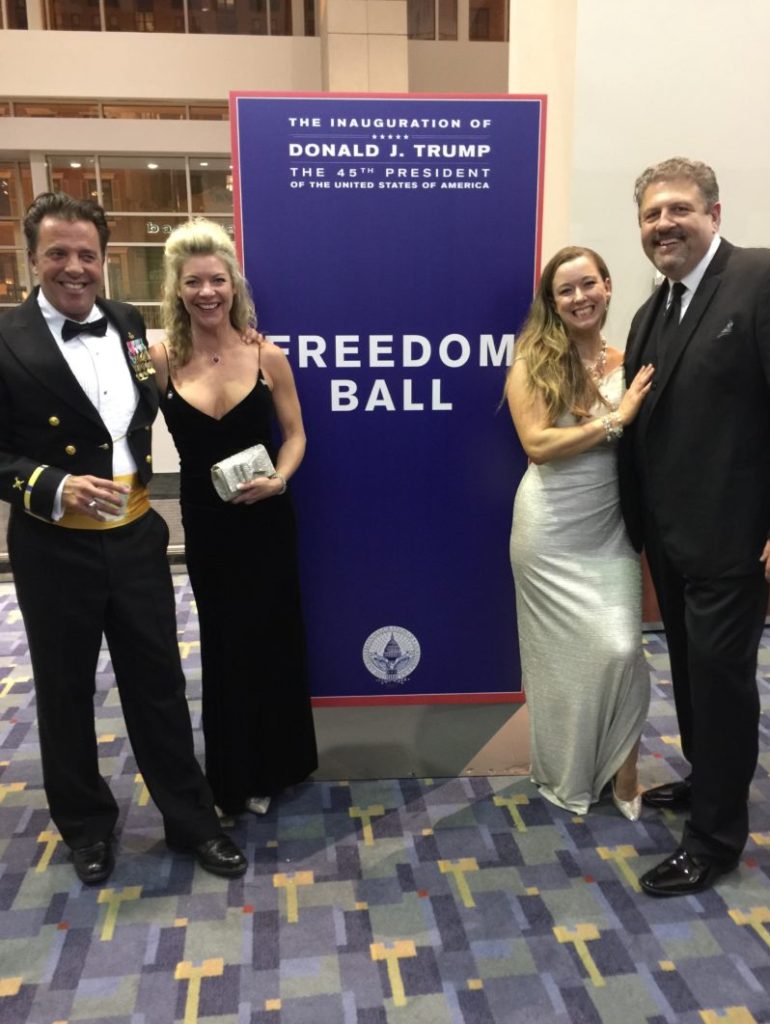 We rose slowly the next morning and made it downstairs in the Watergate to watch Trump be sworn in with great company and a mimosa or two. We walked around the city and experienced road block after roadblock and was relieved that was the worst of it. I am not the rubber necking type and wasn't interested in witnessing any protests. We were provided the opportunity to thank the many soldiers standing guard for the protection of the gazillion people on the streets with us.
We arrived back at the Hotel in just enough time to enjoy a delicious espresso martini and get ready for round two, DING DING. Another gown, half the hair went up, smokey eyes, the same Ted Bakers because I was so happy with my feet from the night before. Truth be told, my husband got all the attention that night and he well deserved it. He held himself so proudly in his dinner dress blues, HOT BUSINESS! He was thanked on multiple occasions for his service, but I'm pretty sure he thanked more folks in uniform himself, surprisingly for the self-proclaimed wallflower. The energy was super positive!
We witnessed Donald and Melania's first dance and heard the famous twitter comment "Should I keep the twitter going? Keep it going? I think so"
Chins up, shoulders back we took a trike to the closest cab which took our party back to the Watergate. I've never had so many complete strangers lining up to buy a drink for Perry and his side kick, me. We talked with a lot of cool people and I can honestly say it was well worth the headache the next day.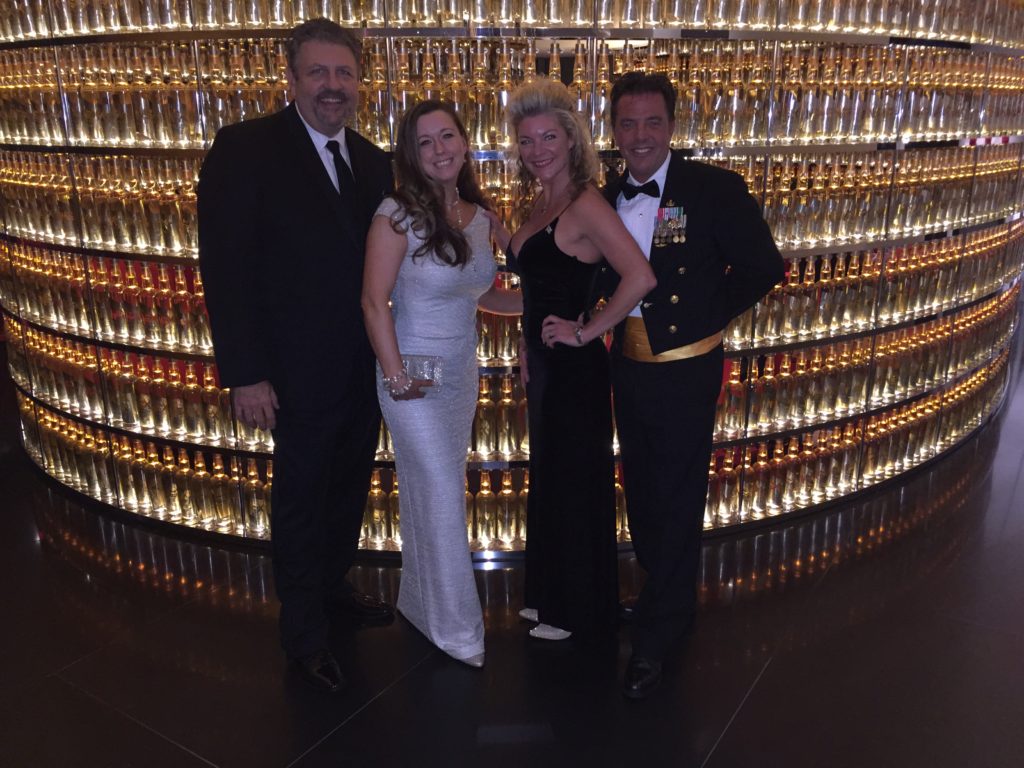 Like I said, I may not ever do it again, but I think we did it the best we could for a couple of normal American citizens, i.e., no connections in the political world. It was the first time in my life I was in the same room as the President of the United States, a pretty powerful experience to say the least.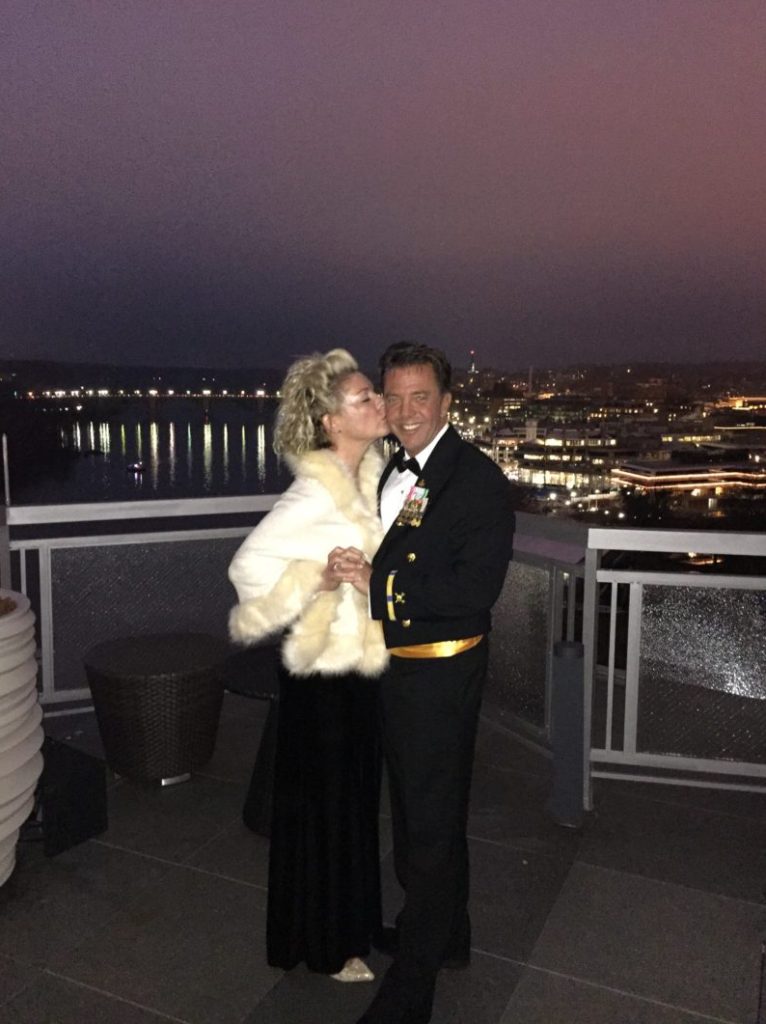 Bonus: My hubby drove us all the 3 1/2-hour drive home, it was a car full of bobble heads!
If you enjoyed this post, share it with your friends #stacysays
Connect with me on Social Media
Follow me on Instagram at www.instagram.com/stacysasnett
Visit www.perrysasnett.com to check out more lifestyle, fitness, small business, and current events #thebombguy
Related articles across the web