Goals, Road Blocks, or  Both?
Part One
Love that the word challenge, can have either a positive or negative connotation depending on your outlook or situation.  Although the 14th century etymology is still valid and remains "un-challenged" it has other more recent definitions, i.e. difficult task, 1954 E.g.  It is the latter usage of the word that we will look into.
Challenge = Difficult Task = Tough Goal OR Road Block…in the context of exercising.
Late last year I put together my list of top 10 exercise challenges (see below) and though I do not have a specific completion time line I would like to finish it sooner rather than later.  However, quite a few on the list are serious goals and as I've begun digging into a few I've realized just how challenging they are.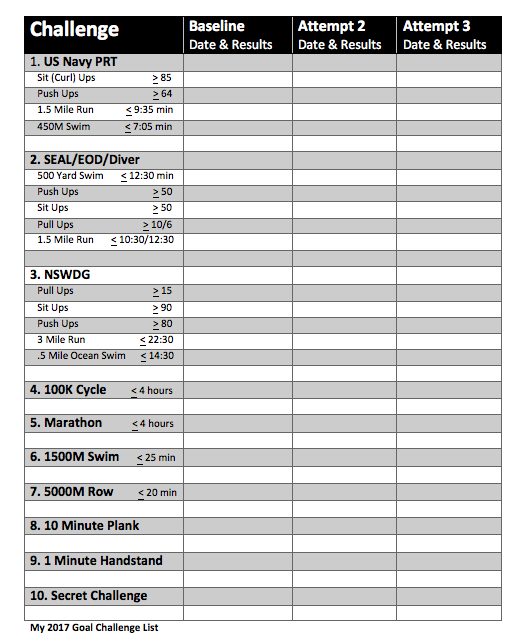 Now I am 5'9", weigh a buck sixty-ish and I'm 51 years old, however, I think it safe to say that the above list of Challenge Goals would be challenging to most, regardless of age or size.  Currently, I do not consider myself out of shape nor do I consider myself necessarily "In Shape", which is why I really want to complete the list in its entirety.  Below are my specs according to my new Garmin Index Weight Scale.  Gained a little weight over the holiday season, but overall not too bad.  Room for improvement though.
Now what about Road Block Challenges?  Road Blocks to one's goals can come in a variety of poor tasting flavors:
Schedule Conflicts

Relationships
Family
Work
Education
Any combination of the Above

Mental Hiccups

Relationship Difficulties
Tired
Lazy
Depressed
Insecure

Financial Difficulties

Gym Fees too Expensive
Cannot afford Equipment

Environmental Factors

Weather Extremes
Hostile Environment

Physical Ailments or Injuries

Potential too Long to list
I do not know of anyone that doesn't have at least a few of those and if there is someone that doesn't have any Road Block Challenges I am duly impressed.  As for the rest of us, how do we cope with hurdles in order to successfully complete the Challenge Goals we've set for ourselves?
Well, I think people handle obstacles both differently and similarly, depending on the hurdle and the situation.  There are dozens of ways to motivate oneself, but what's critical is to find that motivator or 3 that work best for you.  You need your "tackling fuel", as the Waterboy would say, to help you get beyond the tough spots.  Maybe it's a break-up and the thought of making someone jealous, maybe recovering from an injury, maybe money, maybe stature, maybe a strong drive for self-improvement, maybe a loved one, maybe it's any number of things depending on where you are at any given time.  What's important is to find that thought channel or focal point that gives you the mental assist when you need it most.  Oh I'm sure you can get beyond any road block, obstacle or hurdle without any tackling fuel, but I feel the general population needs a little "mental something" to get beyond the physical (or mental) challenges one may face.
Thank you for getting thru Part One of this blog.  I hope it makes sense and more importantly I hope it's relatable. 
Please follow through to Part Two where I go into, what many would consider, sensitive and very personal information about myself.  I feel, sometimes, facing your Roadblock Challenges and addressing them head-on versus avoidance and denial helps.  For me, discussing them actually shows myself what they truly are or are not and in that provides me a level of motivation and conviction. 
Hope to see you soon!
What are your Road Block Challenges? Join the discussion with me on Twitter @PerrySasnett #TheBombGuy #roadblockchallenges
Connect with me on Social Media
Follow my fan page on Facebook www.facebook.com/perrysasnett
Check out my latest pics on Instagram www.instagram.com/perrysasnett
See what my wife Stacy is up to for 2017 on Stacy Says
Visit www.perrysasnett.com for more fitness motivation, lifestyle and more.
Related articles across the web