Blog alert…it's a bit long, but it'll wrap up the marathon series.
Bad news, but there's some goodness in there.
After several x-rays, a new pair of running shoes or 3, a few physical therapy sessions with ultrasound, stretching exercises, 3 trips to the Dr., and one MRI I finally have resolution as to what's been ailing my lower left leg.  Not an IT Band issue, or a calf strain or tendon damage…a stress fracture in my left fibula.  Ouch, didn't see that coming.  Below is the resulting MRI image.  It was really hard to remain perfectly still during the imaging, but you can see the fracture up and left of the cursor.
It's no surprise that is was so hard to diagnose as really only an MRI or Bone Scan will pick it up, unless it's considerably more significant.  Which fortunately it is not.  However, it makes perfect sense now as to why it hurt as much as it did.
Source: http://www.physioadvisor.com.au/injuries/ankle/fibula-stress-fracture/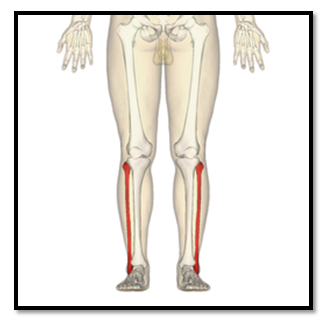 Position of fibula in human male (shown in red)
Contributing factors to the development of a fibula stress fracture
There are several factors that may contribute to the development of a stress fracture of the fibula. These should be assessed and where possible corrected with direction from a physiotherapist and may include:
poor foot mechanics
inappropriate or excessive training or footwear
joint stiffness
poor flexibility
muscle weakness
poor balance
OK, I reckon that about sums me up.  🙁
Now I've been walking really well without much discomfort, biking on the average 0f 15-20 miles a day, and swimming so I think I'm beyond the critical portion of recovery as long as I do not over do things.
Physiotherapy for a fibula stress fracture
Physiotherapy treatment is essential for all patients with this condition to hasten healing, prevent recurrence and ensure an optimal outcome. Treatment may comprise:
soft tissue massage 

OK, who doesn't like a massage, especially if there's a happy…outcome

joint mobilization 

I think I'm good

electrotherapy (e.g. ultrasound) 

Don't think so anymore

taping or bracing 

I'm good

The use of crutches-

Hell no!

biomechanical correction 

OK, this makes sense to me

exercises to improve flexibility, strength and balance 

Makes sense as well

education

What, GED not good enough

A gradual return to activity plan. 

Code: running and concur
I guess what is positive about taking so long to diagnose is that I am well on my way to recovery.  The last set of x-rays showed good bone growth around fracture.  Just need to continue what I've been doing for the last 6 weeks or so and not start back to running too soon and when I do to take it slowly.
That's the first part of the bad news.  The second part is that I have to wave off running the marathon on Nov 6.  Huge bummer and a huge bummer for my wife who's been tracking on her program pretty well.  We really wanted to run our first marathon together.
I guess that's where a bit of the goodness comes in…for me anyway.  Stacy, understanding my frustration and my desire to run has decided to push her first marathon off to next year along with me.  I imagine that's a bit of a bittersweet pill for her to swallow.  She reasoned, and correctly so, that if the roles were reversed I would do the same for her.  Though I guess I do understand the strong desire to run anyway, at the competitive and motivational level, but I am a bit surprised about how much grief she's been getting from her friends.  I guess it's just a difference in approach to relationships and what's more important.  That said, if she really wanted to run the race I'd support her 100% and try really hard to hide a slightly pouty face, but would be more proud than not of course.
So, here's the new plan.  Part 1.  We're both able to push our entries to next year's marathon.  In doing so we actually save a few thousand dollars versus her running this year and me traveling to support and then having to commit up to $3K for the entry fee next year.  I guess that's a bit of positive. This year we each raised about $1,400 each for Team for Kids and my company pitched in the rest of the entry fee for both.  Part 2.  On Race Day (this year), Stacy plans to run just under 26.2 miles, say about 25 (her longest), and I plan to bike 100K for the first time.  We'll get home about the same time that day and start celebrating our accomplishments while discussing next year's agenda.  Part 3.  Stacy is considering taking up biking so we can ride together as well as she's considering swimming as well.  Makes for a great workout if you can add swimming in the mix.  So with weightlifting, swimming, biking, running and various core exercises I think we'll be good and ready for next year.  At least that's the plan and we've been pretty good at sticking to it.  We're both each other's "tackling fuel", if you will, so that is a huge benny.
I would like to take this opportunity to thank everyone that not only contributed to the cause for kids, but also those that have followed along and provided good comments and encouragement.  Thanks so much!
I guess I'll have to save my #teamperry shirts for next year's race.  Please stay tuned for that series!
Roadkill signing off…for now.
Connect with me using the links below:
Find out what I'll be up to next; follow my blog at www.perrysasnett.com
I'm currently sharing my life in pics. Follow me on Instagram @PerrySasnett
For more trending topics from #thebombguy, join the discussion on Twitter and Facebook
Related articles across the web