Back on the Program with two 10-mile Runs
I actually followed doctors orders; I was very tempted not to after icing regularly, a shot of cortisone and prescription of meloxicam, my ankle felt sooo much better and I was very tempted to start running a day sooner then recommended, but I'm glad I didn't.
The doc suggested I row or bike, neither I'm a fan of but I craved the cardio/sweat session that comes along with them. I rowed and would say it was worth the blisters on my hands only an amateur would endure, duh, gloves! I really do not sit still that well or contentedly so I: took the girls to the Water Park, shopped for essential mermaid tail materials (my nine year old talked me into a project I felt barely qualified for), squats, planks, bowflex fore arm stands, walks and mowed the lawn for the three days I was told not to run. I desperately needed to distract myself from not running and the couple of fishing pounds I gained.
I got back on the program with two 10 milers back to back on Saturday and Sunday; because Perry was out of town overnight Friday to Saturday, my Saturday 10 miler was at 130pm and my Sunday 10 miler was at 8am, not exactly the optimal recovery time in between, but it is what it is. I was apprehensive, but I'm glad it went better than expected! It was scorching in VB on Saturday afternoon, I sabotaged myself with putting too much ice I my camelback! It was "empty" at mile 7, but really the ice just didn't melt in time, and I was left very thirsty. Sunday's run was good-ish, my legs were tired but I loved the clouds providing me a sunless rendezvous.
With all that being said, I'm making a pretty substantial adjustment to the program, I've decided to transition to the beginner program my husband is on (probably should have started there, but I'm glad I tested the waters of the advanced one first 😉 In addition, I'm adding calisthenics back into my routine at least two days a week if not three.
The lessons I learned in week 8 of the Hanson Marathon Method when I shouldn't/ couldn't run 4 of the 6 days on the plan; each of them deserve (and will have) their own blog.
For me, weight loss will not come from running alone, even with a great diet, calisthenics is crucial.
Don't just listen to your body, respond to it – my husband is really good at.
Patience – still working on that one
We are still competing to see who will receive the most donations to support Team for Kids and ultimately win the race! Choose #Roadkill or #TheFilly to Donate below.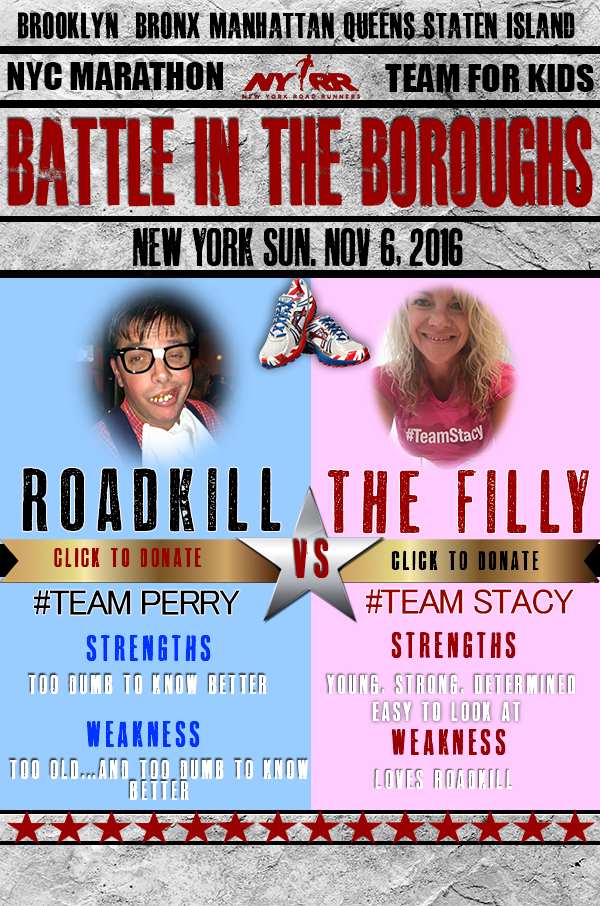 Keep up with my progress as I train for the NYC Marathon by following Stacy Says
Follow my husband Perry's progress at www.perrysasnett.com
Check out my #FitFamily on Instagram @PerrySasnett and @StacySasnett
Related articles across the web