Hanson's Marathon Method-Another Week Down and 10 More to Go.
Well, it's starting to get serious as the miles are really starting to pile on near the 40's and fifty mile weeks are right around the corner.  I am starting to get my running legs back, slowly but surely, and actually starting to enjoy the runs…most of them anyway.  I think, minus this paragraph and a few other notes later, I'll talk more about what's going on with the competition…my lovely wife, #teamstacy, a.k.a. The Filly.
Her last week was a bit tough as her ankle has been getting the best of her and in doing so obviously adversely affects her runs.  Last Sunday was the clincher with her 14 miler, couldn't finish as strongly as desired because of her injury.  So bad that she decided, surprisingly smartly so, to not run on Monday AND Tuesday, oh boy.  And let me tell you what…she has been one big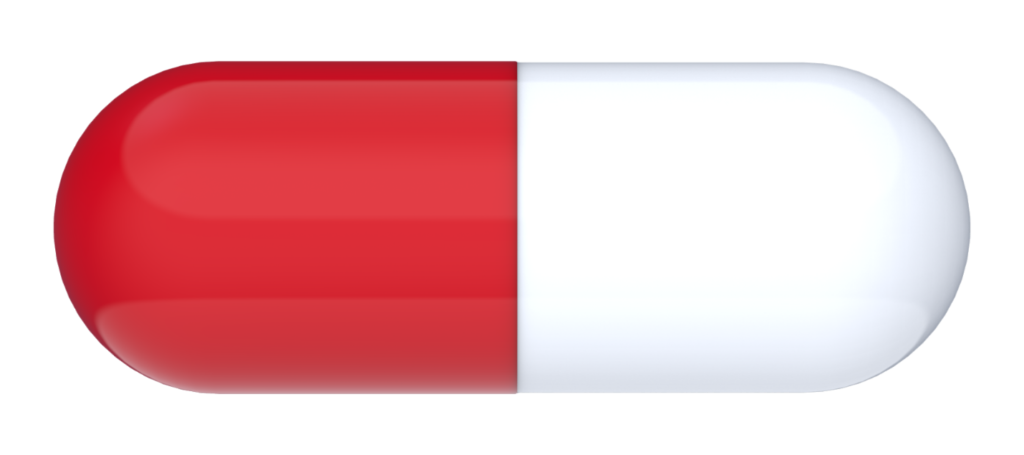 She does not take not doing something well, especially when she's rally into it AND there's a bit of competition involved.  Just saying.
Now in all fairness, or some fairness anyway, I can understand that, but she's not a good chat buddy about the subject and I'm still running…hello?!  Case in point.  This Tuesday, like all Tuesdays for both of us, was the Tempo run where you get it for a certain distance and for a certain number of times.  Well, I thought mine went pretty and felt pretty good about it and actually enjoyed the challenge.  Now when I got home she did ask "how was my run", don't think she said "honey" or "babe", but that's OK as I'm thick skinned.  After I said I thought it went pretty well I think I remember getting a "humph" or maybe not even that.  Definitely not "good job" or a "oh, nice!" none of that silliness.  So thru my acute threat assessment and rapid prognosis I quickly identified that she's pissed she can't run.  As someone that used to defuse bombs for a living conducting an accurate and rapid assessment of the situation can literally be a matter of life and death.  I think this was such an event so I left her alone…for a bit, never said I was smart.
Here's my Tuesday run as captured by my Garmin Fenix 3 HR
With all that, I am glad that she had the wherewithal to go see a specialist about her ankle and she did so on Wednesday.  Check out her blog for the skinny.  I'll just say that I wouldn't mind a few cortisone shots in a few key locations as well, like my knee.  Maybe in my future as the road is taking a bit of a toll on this ½ century old body.  Stay tuned to see if it's needed.
So #teamstacy, a.k.a. The Filly, will be back running on Saturday.  Guess she gets to sleep in a bit until then.  One up side.  It will be nice to have her back running again; one to have my running buddy/competition back, but more importantly because our house will be much safer place.  Then we can let the kids out of the closet and the beatings will go down to only 3 times a day.  Just kidding about the closet and the beating…at least where our daughters are concerned.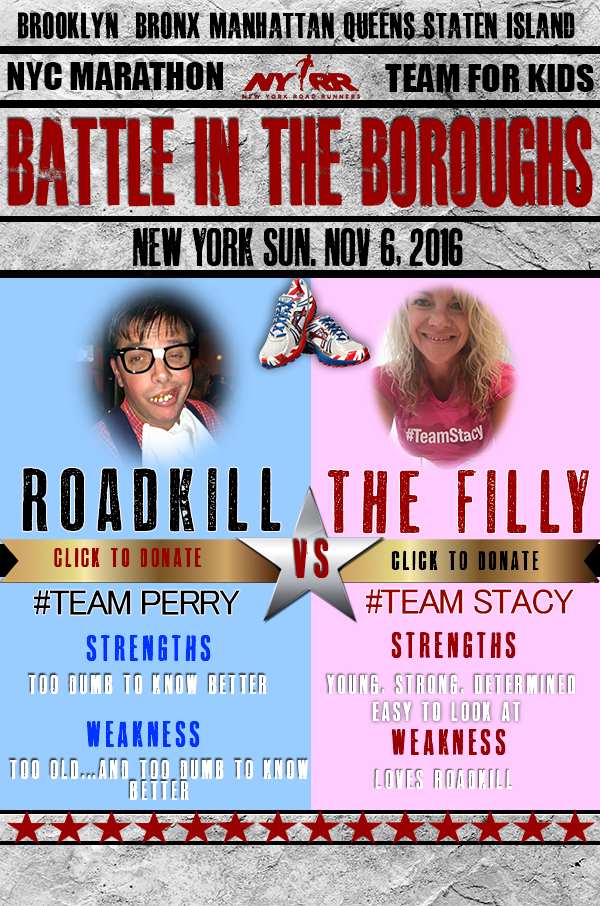 Please show your support by donating for the cause we're both running for.  I don't even care if you pick her.  She needs the help anyway.  Please DO NOT tell her I said that!
Stay tuned to see how both "Roadkill" & "The Filly" are doing with the training and the competition.  It's getting serious folks.
Keep up with #ROADKILL and #THEFILLY as we battle it out to the NYC Marathon 2016.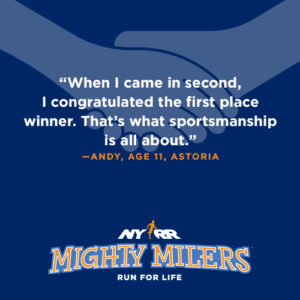 Follow us online to see what happens next in our 10 weeks of training with the Hansons Marathon Method.
Like my fan page on Facebook
Check out my training in pics on Instagram
Subscribe to my channel to see more videos on YouTube
Related articles across the web