Countdown until #TeamStacy is back on the Run.
I had an awesome experience with my new (one and only) podiatrist!
I have never had great relationships with doctors throughout life even after years of loyalty on my part, now that I mention it, maybe that was the problem, should have switched it up! In any case, I was primed with my delivery and was not going to settle for anything less than a doctor who was on #TEAMSTACY, even if I had to go through fishing 5 docs.
I was referred to one doc from a friend, but I couldn't get an appointment until October; none starter. I found another practice via Google search and picked it because I was 90% sure I knew the doc and his wife prior to parenthood, i.e. from a particular bar scene and it had availability in two days time.
I got to my appointment right on time and was seen pretty quickly (which I find never fishing happens!) The PA ran down the usual list of questions: Previous injuries? Nope. Diabetic history? Nope. Alcohol intake? 2-ish a day. You know the drill. It became apparent pretty quickly he was in training "Oh great I got the new guy", he totally flubbed the x-ray portion of my visit. I shared his embarrassment and he appreciated my comical response to his obvious need of more studying.
In no time at all, the doc arrived and I greeted him with a hug, the light pat on the back, the kind you give an acquaintance you haven't seen in ten years. We caught up pretty quickly and jumped right into my ankle issue. I made it pretty clear that not running was NOT an option and I must have been very charming and convincing. He thoroughly checked my ankle out and diagnosed me with an irritated tibial ligament.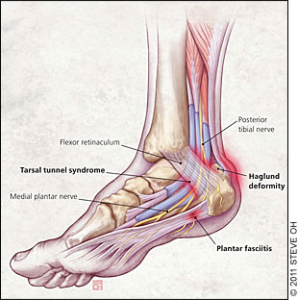 The cliff notes of the conversation went a little like this:
Doc: "my suggestion is an oral NSAID, strong anti-inflammatory and, come back in a week.
Me: "I'm using the Hanson Marathon method, I just wrapped up week 7 out of 18.
Doc: "We can try cortisone in a week if it's not feeling better"
Me: "I'm running 50-ish miles a week and it's not going to get any less"
Doc: "We can do both cortisone and NSAID today and ice as much as possible"
Me: "How long until I can run again?"
Doc: " 3 days"
Me: "Yeeeessssss!" I may have even left out a little fist pump.
I finally found a doctor that really understands me and is willing to work with me to achieve my goals. I did not escape without his concerns with this particular nerve and the long term damage effects, which I completely appreciate and agreed to return every two weeks. Next time he asked me to bring my shoes and I proudly responded, "I'll bring all four pairs".
I left my appointment in the best mood I've been in all week! Just ask my husband…
Follow my marathon training progress by visiting Stacy Says every week!
Keep up with my husband Perry's progress at www.perrysasnett.com
Follow our #FitFam on Instagram @PerrySasnett and @StacySasnett
Don't forget to cast your vote for #TEAMSTACY or #TEAMPERRY and support us as we run the NYCMarathon for Team for Kids.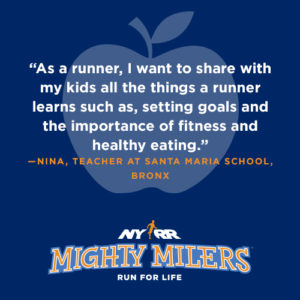 Related articles across the web