Hansons Marathon Method Week 7 Recap-Focused and Determined
I wrapped up week seven most disappointed since starting the program. My ankle has not gotten any better; slightly worse, just enough to get real and give it a fishing break. I do not idle well…ever, but definitely not when I'm focused and determined. In my mind, not running is NOT an option. My pace has suffered severely and while I am putting one foot in front of the other, I am unable to enjoy the cool morning air, watching the sunrise, the satisfaction of completing another run successfully because truth be told I'm not sure that it qualified as successful; I'm too distracted by the discomfort in my ankle. I think my tolerance is pretty high in the pain department, but not in the patience department so I find myself easily annoyed and frustrated after another week of sub-par runs. I was so skeptical about finishing the 14 miler on Sunday that I had anxiety about getting too far away from home, I don't carry a phone. I had the first shift and Perry had the second, we had to start extra early because we both had long runs.
I rose at 4am and hit the street at 5am thinking of "Chris Rock: Never Scared" 4AM ON A SUNDAY MORNING! – insert Chris Rock's voice here. "Janet lost her damn mind, whipping out a titty on a Sunday afternoon! …What the fish is wrong with this girl, whipping out a titty on Sunday afternoon!"  For a moment I felt I had lost my damn mind running at 5am on a Sunday morning with a bum ankle. I started down my normal path to exit the neighborhood and the anxiety wouldn't let me cross the street so I turned around and ran up and down the same mile for eight miles, definitely lost my damn mind, until I felt confident enough to embrace the 14 miles and cross the street. The route was obviously boring and I was constantly thinking about my ankle, again boring and my pace was ridiculously slow averaging 10:40, did I say boring yet? Lost my damn mind!
I managed to pack the perfect amount of GU's, gummies and H2O so I had no GI distress, which is something I often deal with. But I really have to wonder if it's because I was going so slow…. Not sure, the jury is still out. My legs feel strong, though my right was a little more soar due to compensating for my left.
I'm happy to report that I have gotten pissed off enough to make an appointment with a podiatrist. I found my fury in missing two runs on the program. I luckily found one that can get me in pretty quick. MTF.
I leave you with "Close the door! Close the door!"
The race to the NYC Marathon is on and we're running in support of Team for Kids. Choose #RoadKill or #TheFilly by making a donation to help the kids of New York City become more physically active, build confidence and encourage teamwork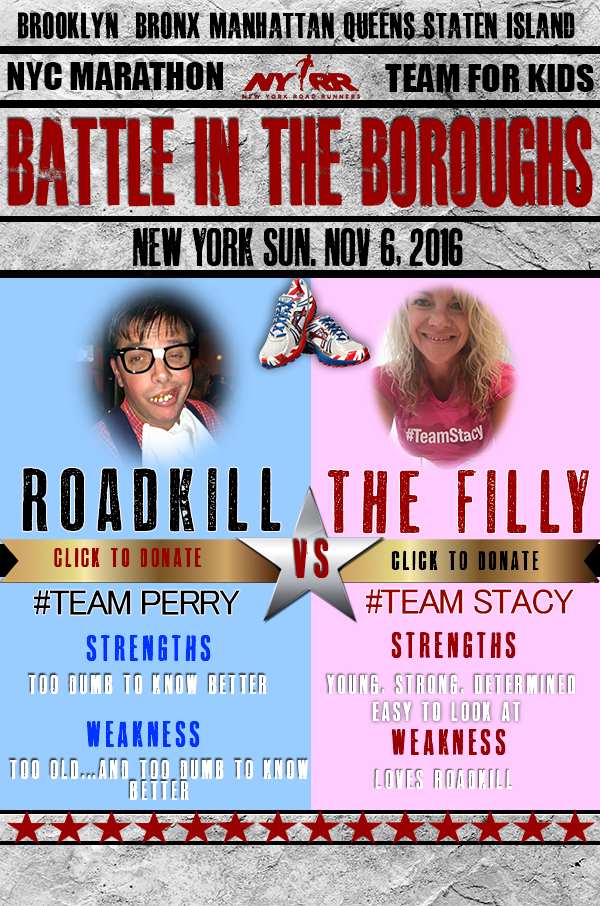 Follow my marathon training progress by visiting Stacy Says every week
Keep up with my husband Perry's progress at www.perrysasnett.com
Follow our #FitFam on Instagram @PerrySasnett and @StacySasnett
Related articles across the web