The Hansons Marathon Method-When Schedules Collide
The thing about using the same training program as your significant other whom you work with and have small children with, subsequently can't run with is….. Scheduling. Who goes first? Who's run is longer? Who's run is harder? What time do the kids have to be at camp? Geeeze!!! One of the best things about running is that you can really do it any hour of the day no matter where you are or what is going on in life, even if it fishing sucks at 1pm in Virginia Beach in August.
Perry had to go out of town this week and my commitment to the Hanson program made me confident that I was not going to miss a run. The only reward for my determination was successful completion of the week. The joy of running was stolen by 3pm, the humidity, the sun and gear malfunctions.
Monday: Perry left after we ran. Easy 6 miles, nothing to complain about.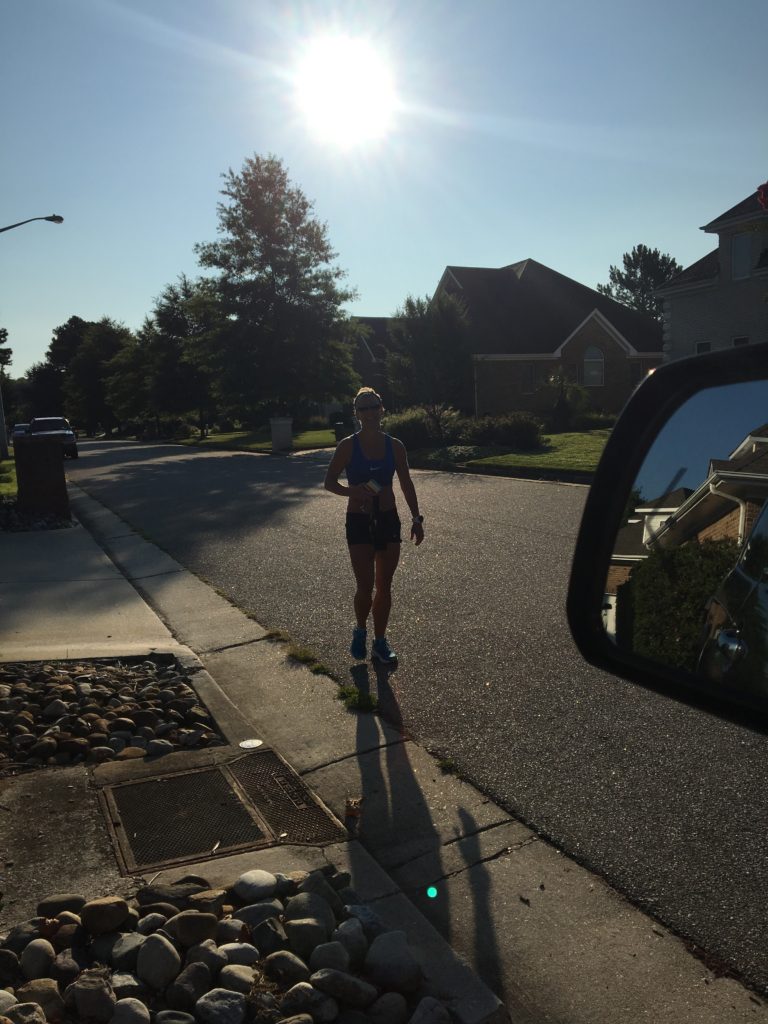 Tuesday: no big deal: drop the kids at camp early and run before I head to the office. This day I was an idiot and my blonde showed itself. I made a stupid assumption about the length of 1k. I just assumed that it was .75 miles as if I had anything to base my ridiculous conclusion on. In a world where knowledge is at my finger tips, I should have asked siri and she would have told me that 1k is actually .62 miles in which case I would have nailed the 5x1k/400 interval. Because I had an idiot moment I was left feeling less than a badass until Sunday when Perry pointed out that 1k is not .75miles. I guess I deserved the feeling like I failed for 5 days, no more assumptions or walking out the door double-checking the program.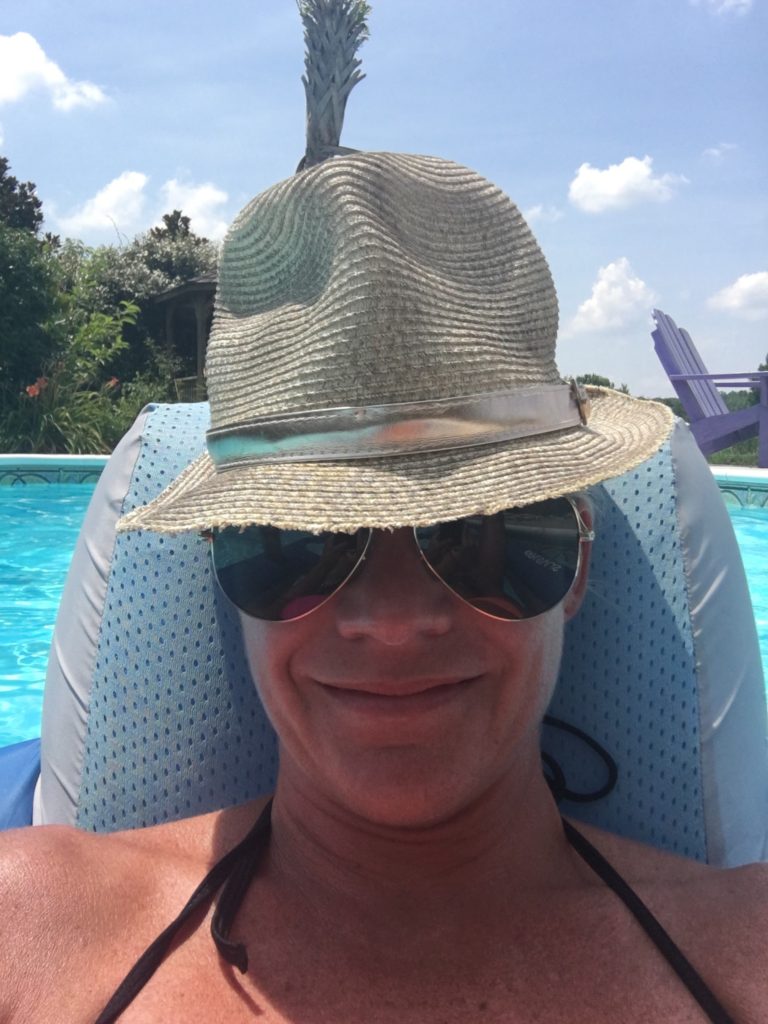 Wednesday: OFF, Yeees! (Fist pump)
Thursday: Meeting at 9am at the office and I can't drop the kids off early enough to get 8 miles in so I decide to push it until the afternoon while the refrigerator repair man is at our rental property I have to be somewhat present for. I was dreading it all day, and when the street was staring me in the face at 130pm I put one foot in front of the other. It's amazing how much harder it is to run at a different time of day. And I was right, it pretty much sucked ass. The best part about it was the change in scenery; we used to live at the rental property at the Virginia Beach oceanfront for quite some time so I know the lay of the land pretty well. I enjoyed running on the boardwalk for the first time in three years, I had missed it and was able to distract myself from the blazing heat with memory lane and then BAM! The scent of a port-o-pot hits me in the face. Eeeew!
Friday: Perry gets home at 3pm, yay! Daddy's home! Fish! I gotta run 8 miles. I chased the shadows and thought about the martini that was in my future. It was the hardest run since I started the program. That's all I have to say about that.
Saturday: Easy 6 miles, wasn't really that easy. My knees hurt, but I got er' dun!
Sunday: 12 miles – deserves it's own blog. Period.
I have no doubt that in the coming 12 weeks I will be faced with more challenging schedules and I will put one foot in front of the other (again), no matter how much it sucks because the best thing about running is you really can do it any time of day. While I prefer the early mornings, sunrise, and crisp air; I am still equally grateful that I have a fully functional set of legs that carry me through every run I start: hot, cold, wet and dry.
Flexibility stretches beyond the muscles and certainly comes in handy when your schedule is not a day at the beach. I'll shift my day accordingly to get a run in and I'll shift for Perry's runs too because that is what he does for me and it's worth every last sore muscle.
I did have a bit of an "ah ha" moment in my reflection of the week and afternoon runs. I was really strict in my diet knowing 8 miles was in my future. I am a good eater, but I would have considered myself an excellent eater with next to no forced discipline for the sake of making a difference considering all the other factors that I felt were stacked against me. Silver linings…
Do you like my shirt? Cast Your Vote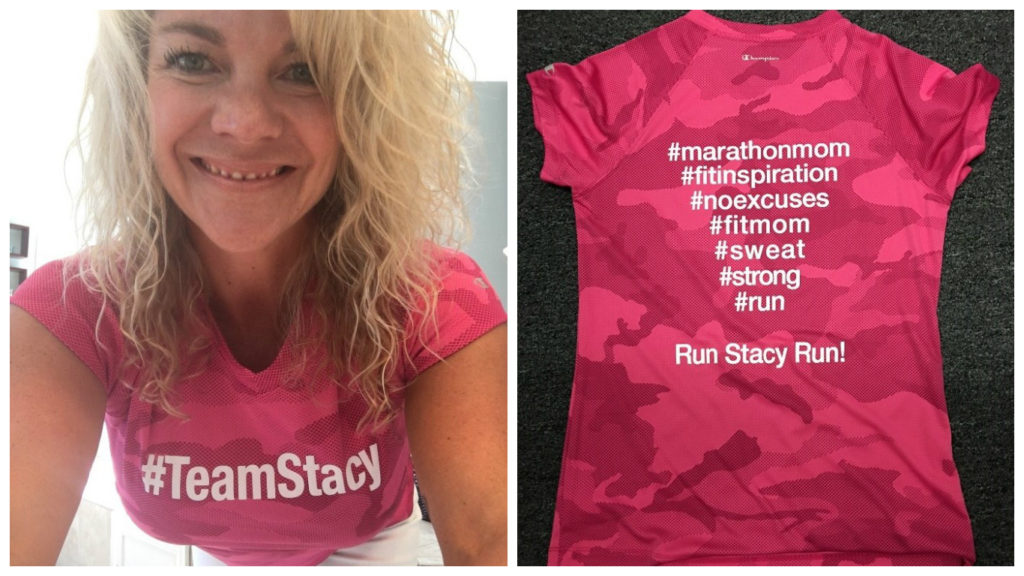 Contribute to the kids of NYC here:
https://www.runwithtfk.org/Profile/PublicPage/33217

Join me as I train for the NYC Marathon using the Hansons Marathon Method.
Follow me on Instagram
Related articles across the web