Reality Has Set in, Marathon Training for Old Dudes
Last year my wife, Stacy, said "Let's run the NYC marathon next year.".  I think, check that, I know she REALLY wants to run a marathon and the fact that we have a few close friends that have ran in NYC's marathon makes her "itch" even more in need of "scratching".   Well, being that it was last year when she made the suggestion and what seemed like a long time at that time I haphazardly said…"sure, why not".
Now reality has really set in…the marathon is 16 weeks away.  Yikes!
Just a little background for the readers.  I've been retired as a Navy Diver/Bomb Tech for nearly 10 years now, 5'9", ~163 pounds, 51 years old, ran 3 half (13.1) marathon before and a longest run of ~15 miles, but that one was over 20 years ago.  My wife is 5'5", 12? (cough) pounds, is younger than 40.  She has run over a dozen half (13.1) marathons.  So we have a bit experience with some distance running, but never a full 26.2 miles.  At least not outside a car or riding a bike.   In fact, and this is a bit embarrassing, the last ½ marathon I ran nearly 2 years I was passed by a one-legged runner.  To add insult to injury he was pushing his baby in a stroller.  True story.  The ONLY saving grace, and I'm being very generous with this on my behalf, is that he is called "Turbo" and he's also a retired SEAL friend of mine.  Still embarrassing as we use to work together.
Anyway, after some online research of marathon training for old dudes, I finally decided on the Hanson Marathon Method.  It seemed reasonable enough and the longest run prior to race day is 16 miles…seems reasonable.  So last week I just completed the second week of training.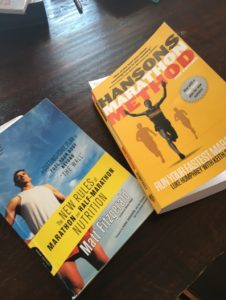 Now the program calls for 18 weeks of training, but I got started a week late so I jumped into week two.  Didn't think it would impact me either way as I was already running 10-15 miles a week anyway which is what the 1st week called for.  Now, at the time of this blog posting I'm just into the 4th week.  Seems to being going OK, but a bit slower than I would like.
I put together the chart from the book so I can plaster it front and center in the kitchen so I HAVE to see it every single day as a constant reminder/motivator.  Hope it works! Maybe a pic of Turbo would help…kitchen only of course.  The first week was a little bumpy, definitely nothing to brag about.  Especially Saturday's run.  It didn't help that I had margaritas for dinner and washed that down with several vodka/Red Bull's until 0230 with a buddy.  As the saying goes, "If you're gonna be dumb, you'd better be hard".  Well, I got the "dumb" bit down pat.  I remember drinking and running/exercising the next morning to be a lot easier back in the day.  Age and slackness is a bitch.  I need to start paying more attention the other book I purchased…'Marathon Nutrition'.  Duh.  Stay tuned to see how well the Hanson Method is working for me.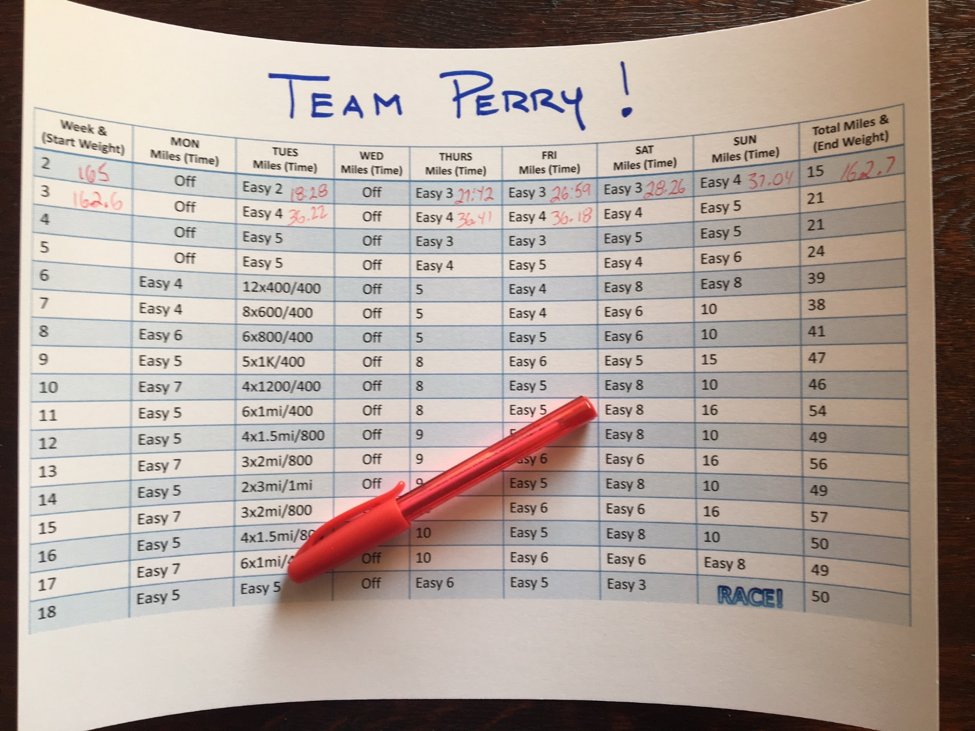 My Program Particulars
The challenges.  With any training program there's bound to be a few and here are a few of mine:
Upfront, my wife and I are both on the training program, but in all fairness, she's on the "advanced" one…whatever, they both wind up in the same spot. Anyhoo, when the long run days come around it becomes a serious coordination exercise as we have to young girls, 5 & 9, that require an adult supervision and our business has its own requirements of course.  So all that requires sorting.
Layering in upper body training. It's one thing to lift, but it's another to lift AND run.  Struggle, but good stuff.  I've plugged upper body into the lighter days: Monday, Wednesday, and Friday.  Have to maintain the shoulders that wifey likes (Rrrrr), keep the biceps from shrinking, work the core, and try to build a chest, not to mention to keep arthritis at bay.
Not much F's up a program more than traveling.  It takes an extra level of effort to stay on point.  Travel between now and race day: former teammates' retirement up around DC, upstate NY with a buddy, a wedding in Denver, a visit to Utah with phenomenal souls, and I'm sure I'm missing something.
This is the scariest and can be a complete show stopper.  I've been really careful, but it really doesn't take much to throw off a program.  Proper pre/post stretching will help alleviate this as well as a common sense approach.
Nuff said.
So how am I tracking all this training activity?  Why an Activity Tracker of course.  Specifically, a Garmin Fenix 3 HR.  This device, though a bit big for my chick-wrist, is absolutely awesome.  So cool that I'll have to blog about is separately in a Tech Blog, coming soon…as soon as I learn more about it.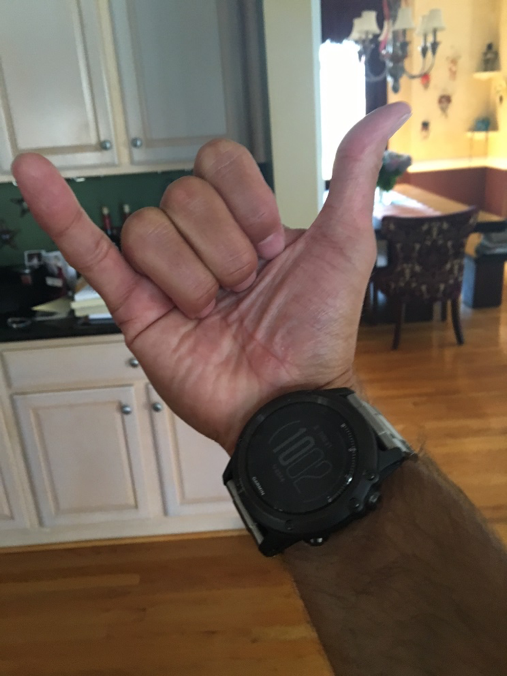 Why put myself through this pain and suffering, especially after a long career of similar pain and suffering?  What the hell, why not?  However, there's more.
I am glad that I'm doing this, think it's so cool, but the coolest part and a great focal motivator is the cause, NY Team For Kids. [email protected]  So cool.
Team for Kids is a committed group of adult runners from around the world who add meaning to their miles by raising funds for NYRR's Youth and Community Services programs while training for major endurance events. The funds they raise provide free or low-cost health and fitness programs to kids who would otherwise have little or no access to regular physical activity. These programs serve more than 215,000 children each year in more than 1,000 schools and community centers in New York City and across the nation.
Here's the course.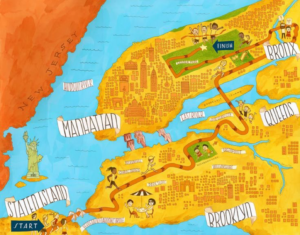 That said, my wife and I are "kinda" competing and we're both trying to raise as much money as possible so it's boyz against the girlz.  Game on!  Please stay tuned for the next 16 weeks of "Brawl thru the Burroughs".  There will be a follow-on blog, pretty much the two of us supporting each other by talking a lot of smack and our individual training philosophies.  Though she is basically taking my lead on this.  After further consideration, maybe I should have kept my strategy closer to the chest as she's pretty much boosted my "Old Dude" program.  The "friendly" competition is two-pronged…who raises the most money for the kids and, of course, who finishes first.  With the last bit, I'm happy crossing the finish hand-in-hand with my lovely wife…even if I'm pulling her.  Wink.
Another nice little touch to this marathon is that we love visiting NYC and get up there at least once a year.  Actually, I proposed to my wife on the Brooklyn Bridge.  It's a special place for us.
Please stay tuned and watch the fun smackdown banter and hopefully you will be inspired to do something similar and/or help us help the kids!
Old Guys Rule!
Perry Sasnett
USN CWO (Ret)
Connect with me on Social Media to follow my training progress
Like my page on Facebook
Follow me on Instagram
Follow me on Twitter 
Related articles across the web