Personal Fitness Challenge-Get Back into Shape
If you've read my previous blogs you know that I'm dedicated to getting back in shape and that I've put together what I consider a really good program that'll get me there.  Here's the list again and the specs below that.
Personal Fitness Challenge (PFC)
US Navy PRT (Outstanding Males: 50-54)
US Navy SEAL/EOD PRT
Naval Special Warfare Development Group (NSWDG) PT
100K Cycle (< 4 hours)
20 mi Run (< 3 hours)
1500m Swim (:25)
5000m Row (:20)
10 min Front Plank
1 min Hand Stand (Unsupported)
Secret Challenge
I've intentionally steered clear of weight lifting challenges for this program.  Though I do appreciate the benefits of lifting and fully plan to incorporate strength training using weights as a few of the above require significant strength.  However, I like the over body challenge and some things I haven't really approached yet and figured that if I can accomplish the whole list I will be happy.
The US Navy Physical Readiness Test – I had to look this up online and to be honest it's harder, for a perfect score anyway, than I thought it would be. The 1.5 mile run has me wondering.  Good news is that you can do either the run OR the swim, not both.  Though I may anyway.
US Navy PRT Standards 2016

The US Navy Diver Physical Requirements – Actually easier the standard Navy PRT, but this is just to measure if a person has the "potential" to physically make it through training and as I know all so well it takes more than the above to make it through any of the programs I've highlighted below.
US Navy SEAL/EOD/Diver Minimum Physical Requirements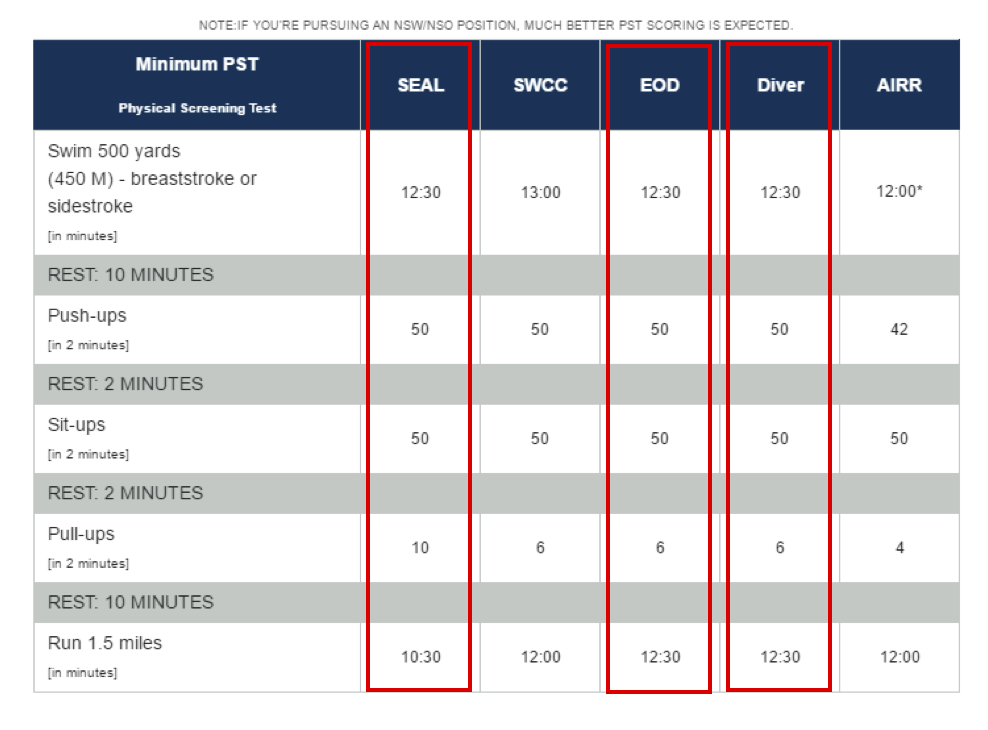 NSWDG PT – Well, this one is special. Though, I surmise, it's no Ironman it is a really good workout nonetheless.  The specs below are the "minimums", to be competitive you really need to do above 20 pull-up, 100 sit-ups, 100 push-ups, and run 3 miles in under 20 minutes.  I was doing 2-a-days and sometimes 3-a-days while I was stationed in Hawaii preparing for this test.  I see remember my score, mostly: 33 pull-ups, 105 sit-up, 100 push-ups, I think an 18:50 run and finished the swim well under time, but it was cold as hell in January in Virginia Beach that year.
Naval Special Warfare Development Group Minimum PT Requirements

The Century Ride – I'm excited about this as I'm completely new to cycling. I'm new to cycling and really the only reason I actually took it up was to assist me in maintaining my cardio until I became healthy enough to start running again.  But alas, that may still be a bit of time.  That said, I'm really enjoying pedaling about Virginia Beach.  Now I'm not on a proper road bike, but a cross bike, but like the flexibility of curb hopping, grass floating, side walk bouncing, mud traversing the cross bike allows.  I'm sure people not familiar with that style of bike wonder what the hell I'm doing all over the road, sidewalk, and any number of other places.  I'm some are pissed, but I'm by too fast to notice.  Love my bike.  And finally my arse is getting use to the saddle!!!  I've mapped out my course already thanks to Garmin.
100 Kilometer Cycling Course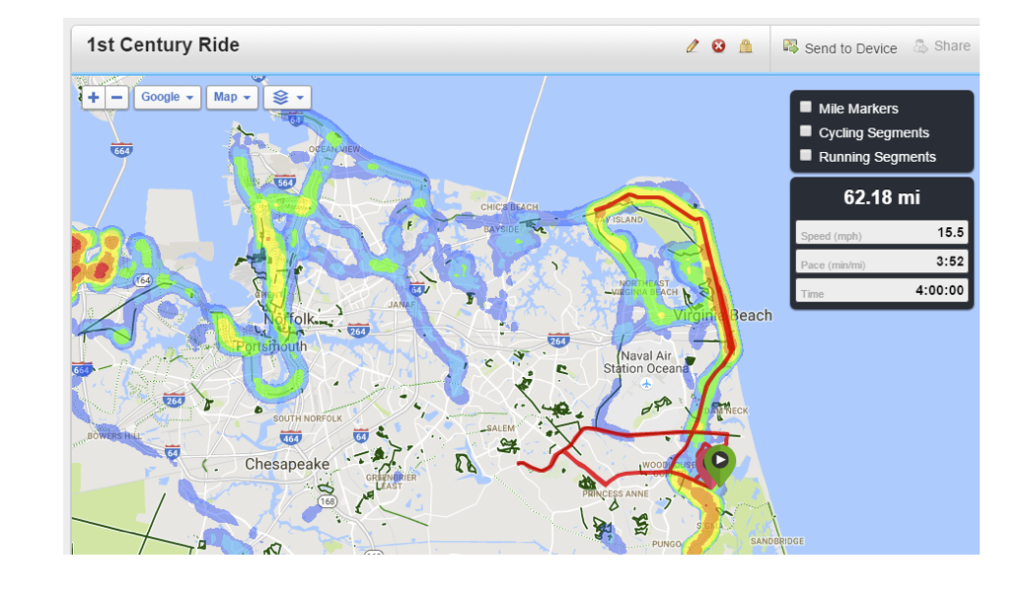 20 Mile Run – Can't very well run 26.2 can I if my wife was gracious enough to wait until next year so we could run our 1st marathon together. So 20 miles will still be a PR for me.  I think my longest to date is around 15 miles or so back in the mid 90's.  I've learned tons from the training I did this year and look forward to getting into putting miles under me.  Just need my fibula to heal completely…maybe another month and I can get to running again.
1500M Swim – I chose this because I know swimming to be so beneficial plus I use to be OK at it. My side stroke is still decent, but the crawl takes work for me.  And to do 1500 in: 25 or less is a challenge, for me at least.  That's a fairly aggressive goal, but not unobtainium, my 50M split time is: 47 sec with a 36 SWOLF, but I could not have kept that pace up.  I do know that smooth is fast and technique will play a big part.  I'll need to work on that, but it still requires high cardio and strength to succeed.
5000M Row – Like the swim it will require working on my form and building my endurance. My 500M split was 1:55 and 60 strokes, but my thighs were burning and I felt like a lung-shot buffalo.
10 Minute Front Plank – For such a simple exercise its remarkable how challenging this exercise can be. I just started doing planks, on occasion, last year when noticed my wife doing them.  I said "how hard can that be?" and then set out to do a one minute plank.  At the end of it I was shaking like a Chihuahua pooping a peach pit.  Wow!  I been doing them a bit more but my PR is still only 5 mics.  Guess I'm half way there.  I have noticed that there is some level of mental mind games that plays into it so I try not to watch the stop watch.
1 Minute Unsupported Handstand – Always wanted to do a handstand, but never got around to it so why not, right? I figured if I can maintain a handstand for one minute then that's pretty solid and the foundation for more complex maneuvers.
Secret Challenge – I'd tell you, but… Seriously though, I have to keep this a secret for now as it involves a new product I've designed and I have to get through the development process first before going public.  I will say this though, I've never seen anyone do this exercise which is not to say that it hasn't been done it's just that my wife and I haven't seen it…yet.  It will be difficult and I think there's a level of danger as if it's not done properly and prepared for properly an injury may result.  A little apprehensive, but I'm gonna give it a shot nonetheless.
So, I've put together a chart to show my progress over the next 4-6 months, hopefully no more.  It'll show my challenges and my baseline attempt which is what I can do now without specific training, and then, in all likelihood, there will be a 2nd and possibly a 3rd attempt.  If I get it either on the baseline or even the 2nd attempt I may either call it good and move on or continue to improve.  I'll have to see how it goes, but I'm really use to getting only one shot at things so the fact that I'm doing a baseline is just that…to see where I'm at as opposed to where I need to be.
Enough chilling, let's get to it!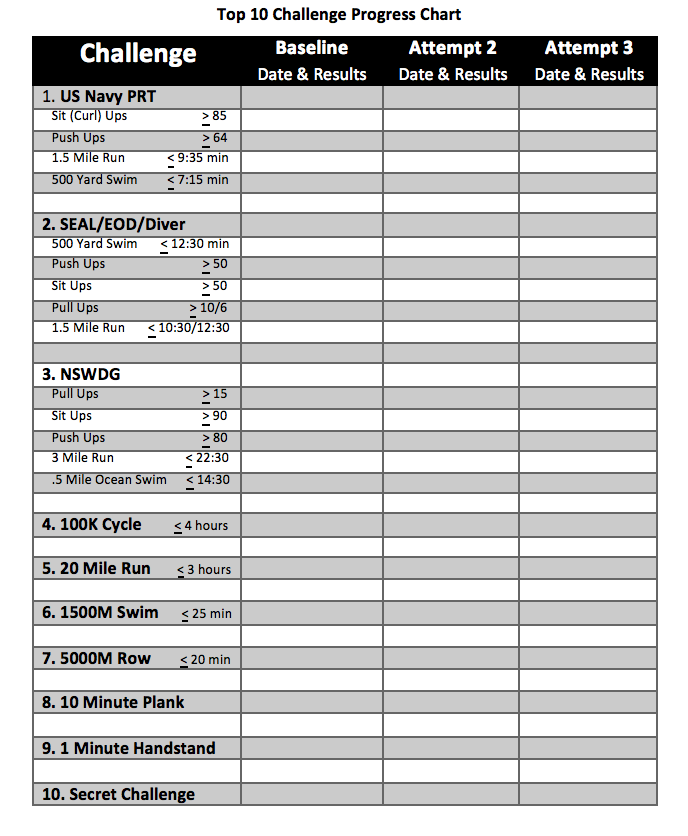 Join the Personal Fitness Challenge; share your progress using #PFC and connect with me using the links below
Follow me on Twitter at www.twitter.com/perrysasnett
Like my page on Facebook www.facebook.com/perrysasnett
Check out my #fitpics on Instagram www.instagram.com/perrysasnett
Visit www.perrysasnett.com to stay up to date on the Personal Fitness Challenge